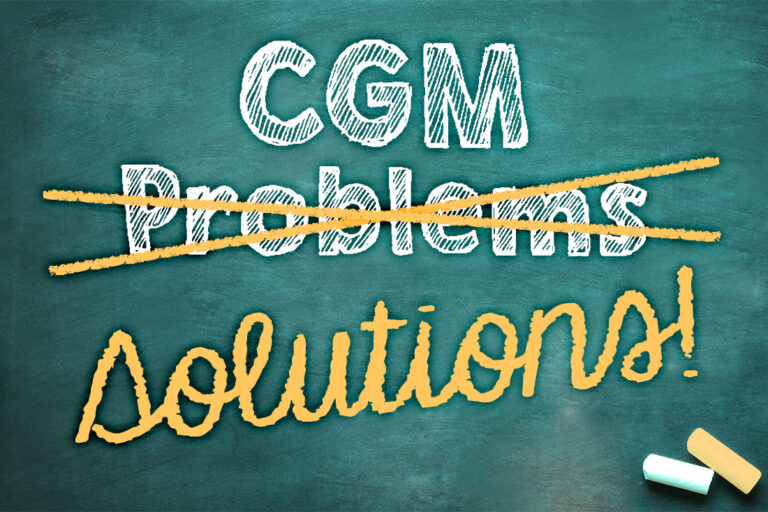 CGM is no doubt one of the greatest advances for people with diabetes since the discovery of insulin, but it's not perfect. As we demonstrated in our video Poking Fun at the Pitfalls of CGM, there are several challenges many of us struggle with on a regular basis. Here are some of the issues we talk about in the video, along with tips on how to make them more manageable.
You Can't Get Readings Due to a Lost Signal
This is a very frustrating problem. Sometimes there's internal calibration happening, and it comes back fairly soon. It can also be a positional issue depending on your system. With Tandem's Control IQ, your pump has to be facing outward and not inward against the body. If you're on a DIY Loop system, the RileyLink has to be close to your iPhone. Rebooting your phone or app may help, and if all else fails, call customer support.
Your CGM Value Is Inaccurate
If your CGM value doesn't match your symptoms, it's always a good idea to double-check your blood sugar with a glucose meter. Sometimes you'll find the CGM value is inaccurate. Depending on the CGM you are using, accurate values (especially in the low and high ranges) may be a problem. Remember, the first 24 hours of a new sensor may be inaccurate. Calibrating can help, but do not over calibrate. If your CGM is off by more than 20% consistently, then you need to call the company and get a new sensor replacement.
Your Sensor Fails
This is not an unusual issue. Your sensor may stop working before the expected length of life, and you are entitled to a new sensor if that happens. Dexcom and Abbott (FreeStyle Libre) are good about this issue and do not push back.
Your Sensor Falls Off Prematurely
This situation is a bummer since you cannot just put it back in. Once it falls out, you're done with that sensor, and they are not inexpensive! Applying them to clean, non-hairy and dry skin is important. Check out this article for other important tips: How to Keep Your CGM in Place and Keep It from Irritating Your Skin.
You Have Alarm Fatigue
Alarm fatigue is a real issue. You have to remember that alerts and alarms are your friends and learn to love them. They will help improve your time in range and more importantly, they will save you from getting extremely low (especially at night). Your upper alert at night can be raised to a higher level so you can get better sleep, but not higher than 200mg/dl. Your low alert, in general, should not be below 70mg/dl, and if you have hypoglycemia unawareness you should have it set no lower than 80mg/dl.  During the day you can change your upper alert to a lower level like I do to improve your time in range.  See the article I wrote called: Improving Your Time In Range Solely By Adjusting Your Alerts & Alarms.
The Adhesive is Irritating Your Skin
Skin irritation from adhesives of the various CGM devices is not uncommon, and presents a huge problem because it may prevent someone from benefiting from this important technology. Please check out the article on our website regarding keeping your CGM in place and dealing with adhesive irritation: How to Keep Your CGM in Place and Keep It from Irritating Your Skin.
Be sure to check the comments at the end of each article for additional suggestions from our diabetes community, and feel free to add your own hacks!