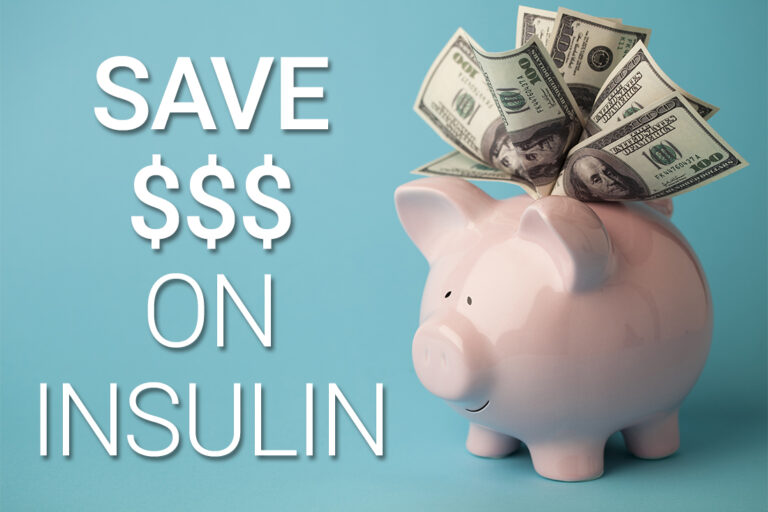 Yes, you read that right! CMS (the Centers for Medicare and Medicaid Services) recently launched a new program called the Medicare Part D Senior Savings Model Program to test the impact of offering Medicare beneficiaries 65 and older an increased choice of Part D plans with lower out-of-pocket costs for insulin. The program allows participating Part D plans to offer a broad set of insulins with no deductible and a max copay of $35 per month. The program will run through December 31, 2025, and if CMS decides to keep it, it'll become a new standard benefit in all plans. Hallelujah!
Insulin Coverage and Program Overview
The $35 copay applies to one month's supply of insulin, within typical and standard doses set by plans and physicians. If someone uses several types of insulin or has multiple prescriptions for select insulins covered under the program, each prescription would have a max copay of $35 for one month's supply. The program also includes coverage for the GLP1-RA/Basal Insulin fixed-ratio combination products Soliqua and Xultophy.
The following pharmaceutical manufacturers are participating in the Part D Senior Savings Program for coverage year 2022:
Eli Lilly (Basaglar, Humalog, Humulin, Lyumjev)
MannKind (Afrezza)
Mylan/Viatris (Aspart, Semglee)
Novo Nordisk (Fiasp, Levemir, Novolin, NovoLog, Xultophy)
Sanofi-Aventis U.S. (Adlyxin, Admelog, Apidra, Lantus, Soliqua, Toujeo)
Eligible Medicare Part D Plans
Many Medicare Part D plans are participating in the program. This includes stand-alone Medicare Part D Prescription Drug Plans (PDPs) as well as Medicare Advantage Prescription Drug plans (MA-PDs) that offer enhanced alternative Part D coverage. Last year, 1,635 prescription drug plans and 76 Part D sponsors participated in the 2021 plan year, covering an estimated 13.8 million patients. You'll need to check with Medicare or your specific plan to find out if they are participating in the Part D Senior Savings Model Program for 2022.
How to Enroll in the Program
Medicare's open enrollment for coverage year 2022 will be from October 15th – December 7th.  Check for participating plans in your area at Medicare.gov. Look to see what each Medicare plan will charge you out-of-pocket for your medications, and seek out the lowest cost plan available. You can also call 1-800-MEDICARE to ask questions about enrollment, eligibility, and the program itself.
Additional Insulin Affordability Solutions
If your plan isn't part of the Senior Savings Model Program and/or you're having trouble affording your insulin, the following resources can help:
Started by Beyond Type 1, this resource is one of the most powerful tools to get assistance with insulin. It connects people with diabetes (in the U.S.) to insulin access and affordability options that match their unique circumstances.
This website from the American Diabetes Association lists support programs from four insulin manufacturers, as well as contact numbers for diabetes medical device manufacturers and their patient assistance programs.
Sanofi's Medication Savings Programs
This resource from Sanofi offers several options to help people save on insulin and other diabetes medications. There are many different ways to save, regardless of your insurance status.
Uninsured people living with diabetes in the United States will be able to obtain one or multiple Sanofi insulins from their Insulins Valyou Savings Program with a valid prescription, for a total of $35 for a 30-day supply.
This program allows eligible uninsured patients to pay as little as $99 per pack of pens, for up to two packs of pens per 30-day supply.
This program allows everyone with commercial/private insurance (regardless of income level) to pay as low as $0 and no more than $99 for a 30-day supply of the Sanofi products listed below, valid up to 10 packs per fill. A majority of eligible patients pay between $0-$10 per month. Savings cards can be accessed in just a few moments after signing up:
If you have commercial/private insurance, this program allows you to pay as little as $9 for a 30-day supply of Soliqua.
If you need free insulin due to low or middle-income status, contact Sanofi's Patient Assistance Connection Program. This program provides diabetes medications at no cost to qualified low-and middle-income people who are uninsured or functionally uninsured. Some people may be eligible for a one-time, immediate month's supply of their medicine as they wait for their patient assistance application to process.
In Summary
Affording diabetes medications can be a challenge, especially if you're on a fixed income or are experiencing economic hardship. Thankfully there are assistance programs like the ones above that can help. If you're over 65 and on Medicare, it's worth exploring the Medicare Part D Senior Savings Program to see if you can enroll in a Medicare plan that is participating in the model to have your insulin covered at a maximum of $35 a month. Remember, open enrollment begins October 15th. You can find more information and FAQs on the Senior Saving program here.
The daily tasks of living with diabetes are hard enough to manage on their own, and helping to alleviate one barrier of insurance coverage will allow you to get back to what's important – your health.