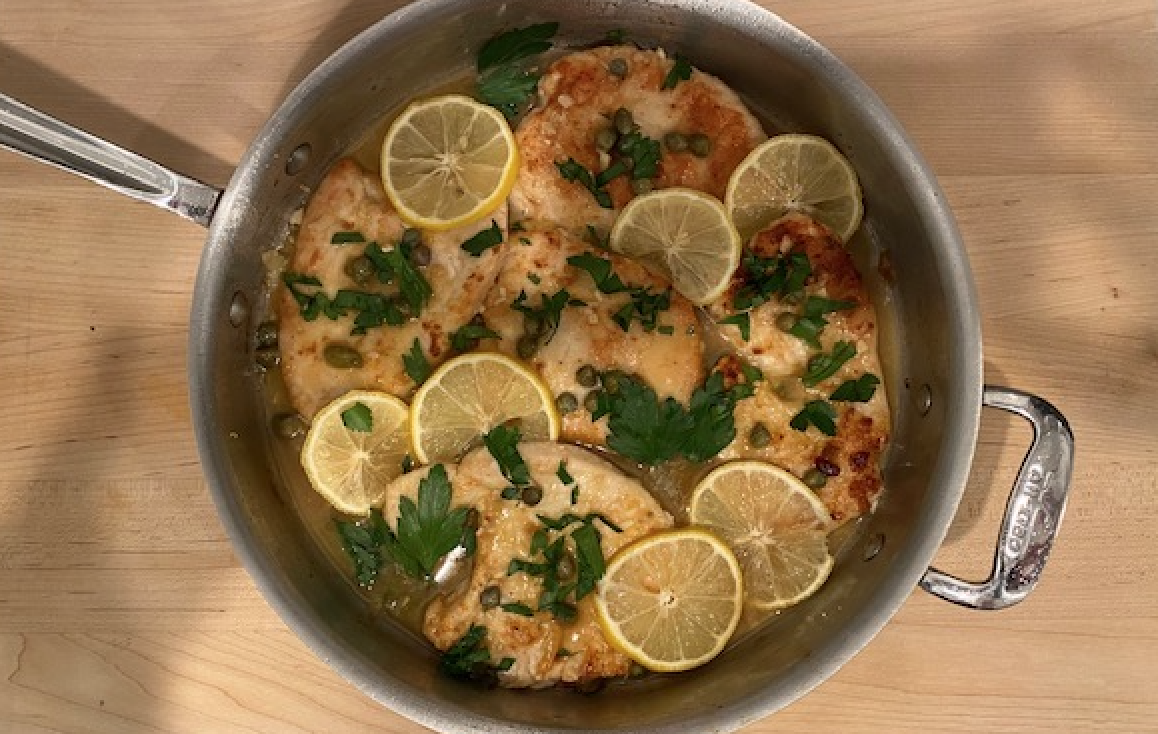 Chef Robert Lewis, the Happy Diabetic Chef, offers a tasty twist on piccata for a low-fuss holiday dish. Be sure to check out his website for more recipe ideas, cookbooks, and links to his podcast!
Ingredients:
1 boneless skinless turkey breast, sliced into cutlets, about 4 oz each (or you can use pre-packaged turkey cutlets)
½ cup flour
3 tablespoons olive oil
1 tablespoon capers, drained
½ cup white wine
2 cloves garlic, sliced
1 big lemon, juiced, plus more for garnish
zest of 1 lemon
1 cup chicken stock
3 tablespoons cold unsalted butter
2 tablespoons fresh Italian parsley
salt & pepper
Directions:
Slice and pound your turkey into thin cutlets.
Chop your parsley and garlic, and zest and juice your lemon.
Season the flour with salt and pepper, and then dredge your turkey cutlets.
In a wide pan over medium-high heat, coat the pan in olive oil and let the get searing hot.
Add the dredged turkey in batches and just brown each side. You DO NOT want to cook it through. You actually want to keep the turkey raw in the center. It will continue to finish cooking in the sauce later. Once browned, transfer to a plate. Finish cooking the rest of the turkey.
Turn the heat down and let the pan cool down for a second before adding the garlic and the capers to the pan. Once cooled down, add the garlic and capers and cook for a minute or two just to soften.
Turn the heat off and deglaze the pan with the white wine. Reduce the wine until it's almost completely evaporated.
Add the lemon juice, lemon zest, and the stock. Bring the stock to a simmer, then add the turkey back to the pan. Simmer until the sauce has thickened and the turkey is cooked through. Once the turkey is cooked, transfer to a plate. If the sauce hasn't thickened yet, let it continue to cook until it does. Once thickened, turn the heat off and swirl in cold butter. Once the butter is incorporated into the sauce, add the turkey back into the pan to coat. Finish with fresh parsley and serve immediately.