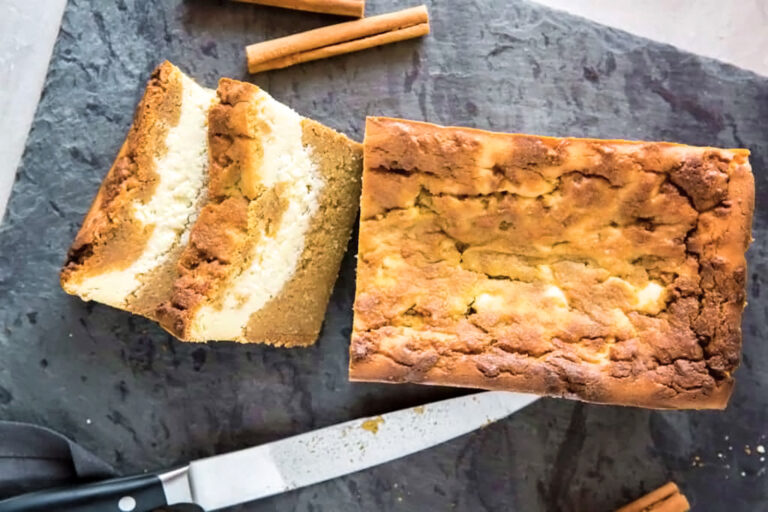 This recipe is from KetoConnect, where you'll find lots of delicious, low-carb recipe ideas. Here is the full Pumpkin Cheesecake Bread recipe with additional notes, ingredient links, and how-to video.
Servings: 10
Prep time: 15 minutes, Cook time: 70 minutes, Resting time: 90 minutes
Ingredients:
For the Cheesecake Layer:
8 oz. cream cheese, room temperature
1/4 cup sour cream
1 large egg
10 drops liquid stevia
1/4 cup low-carb sugar substitute (like monk fruit sweetener)
For the Bread:
3/4 cup almond flour
1/3 cup coconut flour
1 teaspoon pumpkin pie spice
1/2 teaspoon baking powder
1/2 teaspoon pink Himalayan salt
1 cup pumpkin puree (100% pure pumpkin)
1/2 cup low-carb sugar substitute, (like monk fruit sweetener)
20 drops liquid stevia
2/3 cup butter
1 teaspoon vanilla extract
1 large egg
Instructions:
For the Cheesecake Layer:
Position an oven rack in the bottom third of the oven and preheat the oven to 325 degrees F.
Combine the cream cheese, low carb sugar substitute, sour cream, and egg in a large bowl and beat with a mixer until well combined. Set aside.
For the Pumpkin Bread:
Generously spray a 9×5-inch loaf pan with nonstick spray.
Whisk together the flours, pumpkin spice, baking powder, and salt in a medium bowl and set aside.
Whisk together the pumpkin puree and low carb sugar substitute in a large bowl, then whisk in the melted butter, stevia, vanilla and egg.
Whisk in the flour mixture until just combined.
Reserve 1 cup of the pumpkin batter. Spread the remaining batter in the bottom of the prepared loaf pan.
Spoon the cream cheese mixture over the pumpkin batter, then put the reserved cup of pumpkin batter on top of the cheesecake layer.
Bake until the top is cracked and a cake tester inserted in the center comes out clean, about 70-80 minutes.
Cool on a wire rack for 20-30 minutes until cheesecake layer is set, then carefully invert onto a platter or cake stand and flip upright.
Let cool completely, for at least 1 1/2 hours.
NOTE: Make sure to check on the bread starting at about 60 minutes to make sure any cheesecake layer that settled at the top isn't burning. (Slightly browned is fine!)
Nutritional Information for 1 serving (1/10th of the loaf):
Calories: 285, Fat: 26g, Carbohydrates: 8g, Fiber: 3g, Protein: 5g