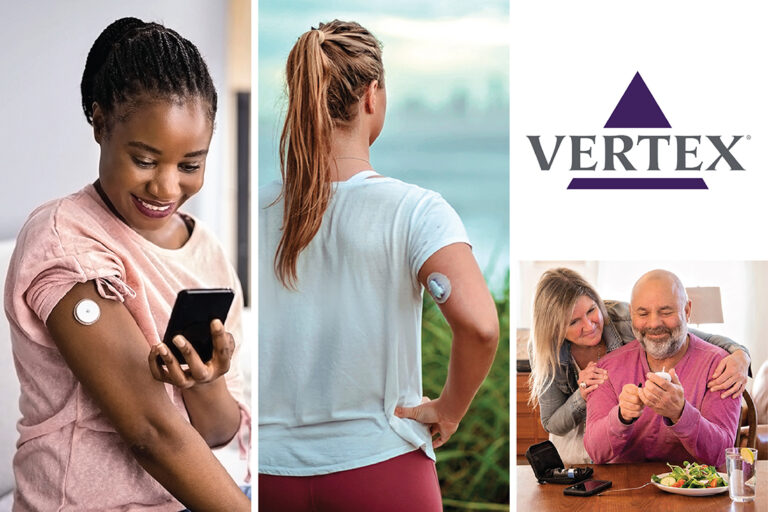 My name is Amit Sachdev, Chief Patient Officer at Vertex Pharmaceuticals, a global biotechnology company that invests in scientific innovation to research and develop transformative medicines for serious diseases, including type 1 diabetes (T1D), sickle cell disease, and more. We like to think of ourselves as a different kind of biotech, going after some of the most difficult scientific problems, and always focusing our efforts on addressing the root cause of disease, rather than just the symptoms.
As Chief Patient Officer, it is my responsibility to help ensure that the patient voice and patient experience are part of everything we do here at Vertex. With our history in cystic fibrosis (CF), we have been successful in discovering, developing, and bringing medicines to patients. From the outset, we have been committed to understanding, learning from and working each and every day for the CF community. We have been relentless at ensuring our work is always centered on addressing the lived experiences of people with serious diseases, and their caregivers and families around the globe.
Three years ago, Vertex began our work in T1D. Aligned with our research strategy, our teams work on projects where we have a deep understanding of the underlying cause of disease in humans. For T1D, we know the underlying cause is the loss of insulin-producing cells. Our researchers are working tirelessly to investigate and advance potential cell therapies to treat T1D at its core. However, our scientific and clinical research is not enough. Our entire team is working ceaselessly to better understand the physical and psychological burdens of living with T1D; whether it is injecting insulin and testing blood glucose levels multiple times a day, wearing an insulin pump or continuous glucose monitor, evaluating the impact of food and exercise on blood sugar, in addition to a myriad of other calculations. It is vital our team understand that daily experience as best as we can until we reach our goal of bringing transformative therapies to people with T1D.
So how do we do that? What are the best, highest-impact ways to better understand what it is like to live with T1D? We try to do that by establishing relationships; building trust; talking to many, many people living with T1D, their caregivers, and healthcare teams; and learning from patient advocacy groups. We have invited people with T1D as well as caregivers to address groups of Vertex employees to share their experiences living with T1D. In 2021, Vertex established a T1D patient panel that meets throughout the year to provide insights and feedback to our team on a variety of topics so we can better understand the patient experience, as well as learn more about their challenges and needs. Finally, we continue to deepen our connections and relationships within the T1D patient advocacy community, learning about their efforts to support, educate, and advocate for people with T1D, and understanding more about how we can help support and their hard work.
One of the reasons I joined Vertex back in 2007 was the fierce passion I felt from every employee to pursue science in the name of transforming lives and to do right by patients in the process. Fast-forward to today, and our commitment to patients has not only grown stronger, but it has also been the guiding light that has gotten us to where we are. As we advance our work in type 1 diabetes, we will continue to look to the patient community for education, inspiration, information, and motivation.