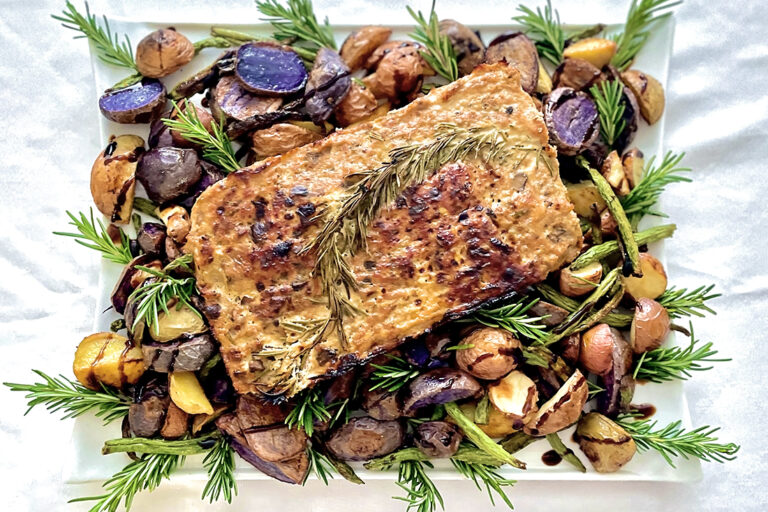 This meatloaf recipe was created by our CME manager Sarah in honor of our Festivus-themed virtual conference, but it's perfect any time of year.
Servings: 8
Ingredients:
For the Meatloaf:
1 large yellow onion, finely chopped
10 oz. cremini mushrooms, finely chopped
3 long sprigs fresh rosemary, finely chopped (or about 2 tablespoons total), plus more sprigs for garnish
20 oz. lean ground turkey
3 tablespoons balsamic vinegar
4-6 cloves of garlic, crushed (~1 tablespoon minced)
2 eggs
Salt and pepper to taste
Olive oil for sautéing
For the Bed of Roasted Veggies:
~ 1.5 lb mini colorful potatoes
~1 lb French green beans
olive oil
garlic powder to taste
Directions:
For the Meatloaf:
Preheat oven to 350 degrees F.
Heat a large skillet on low to medium heat and add a drizzle of olive oil.
Add the chopped onion to the skilled and start sautéing. Let it start to caramelize.
Add the chopped mushrooms to the skillet. Sauté over medium heat for 5-10 minutes.
Add the chopped rosemary and sauté for a couple of minutes.
Turn off the heat.
In a large bowl, mix ground turkey, balsamic vinegar, fresh garlic, and eggs.
Sprinkle veggies in skillet with salt and pepper, then add them to the turkey mixture.
Combine well and transfer to a lightly greased loaf pan.
Add a full sprig of rosemary on top for garnish.
Cover with foil to protect the rosemary sprig for the majority of the baking time.
Bake at 350 degrees for 55 minutes.
Increase heat to 400 degrees, remove the foil, and bake for another 10 minutes.
Broil on low for 3 minutes (if liquid has risen to the top of the meatloaf, the broil should help reduce that).
For the Bed of Roasted Veggies:
While the meatloaf is baking, prep the veggies to roast.
Wash and cut the small potatoes and trim the green beans (or feel free to use your favorite veggies of choice).
Toss the veggies in a bit of olive oil and sprinkle with garlic powder to taste (don't be shy….and make sure to use garlic powder and NOT garlic salt!)
Lay the veggies flat on a baking dish and add them to oven with the meatloaf whenever they are prepared. The veggies should bake for a minimum of 40 minutes, and can also be broiled for a few minutes after the meatloaf has broiled.
Arrange them on platter with the meatloaf in the center, and garnish with more pieces of rosemary sprigs throughout.
Serve with Spiral Stunner Veggie Bake for a colorful and festive meal!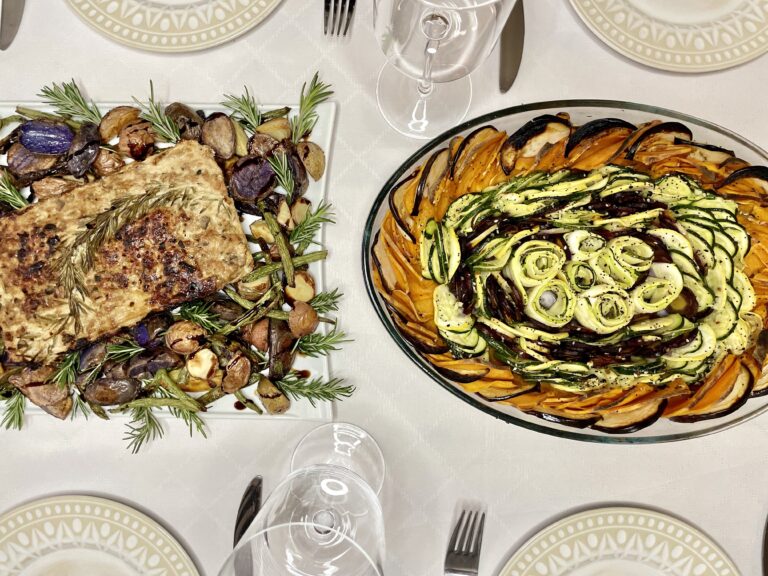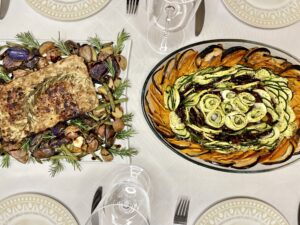 Approximate Nutritional Information for 1 Slice of Meatloaf (makes 8 slices):
Calories:  200, Fat: 9.5g, Carbs: 6g, Fiber: .5g, Sugar: 3.5g, Protein: 21.5g