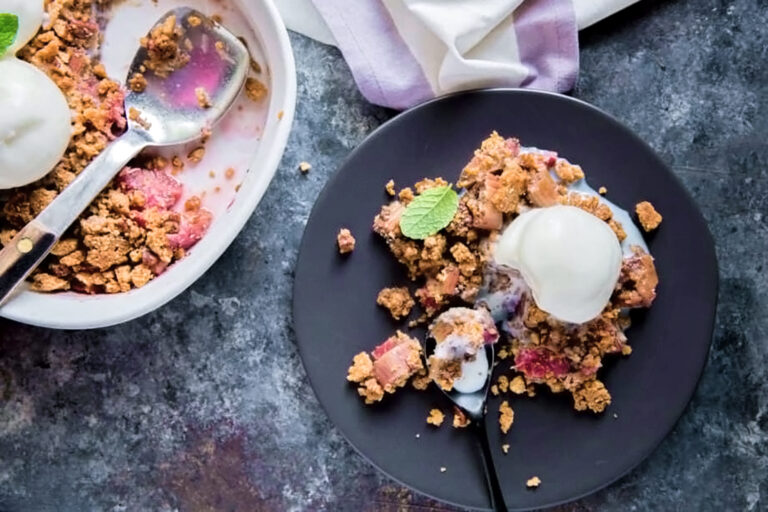 This recipe is from KetoConnect, where you'll find lots of delicious, low-carb recipe ideas. Here is the full Keto Rhubarb Crisp recipe with additional notes and ingredient links.
Servings: 6
Ingredients:
Crumble Topping:
3/4 cup almond flour
1/4 cup unsweetened coconut flakes
1/3 cup pecans, chopped
2 tablespoon ground flax meal
1-2 tablespoons low-carb sugar substitute
1/2 teaspoon ground cinnamon
pinch of salt
1/4 cup butter, melted
1/2 teaspoon vanilla extract
5-7 drops liquid stevia
Rhubarb Filling:
1/4 cup water
2 tablespoons chia seeds
1 lb rhubarb, cut into 1/2 inch pieces (fresh or thawed from frozen), leaves removed
2 tablespoons low carb sugar substitute
10 drops liquid stevia
Instructions:
Crumble Topping:
Preheat oven to 300 degrees F. Line a baking sheet with parchment paper.
In a large bowl, whisk together almond flour, shredded coconut, flax seed meal, pecans, erythritol sweetener, cinnamon, and salt.
In a small bowl, stir together the melted butter, vanilla, and stevia extract.
Add the butter mixture to the almond flour mixture and use a pastry cutter or two knives to blend in until the mixture resembles coarse crumbs. Spread out evenly on a prepared baking sheet and pat down with your hands to flatten slightly.
Bake for 10 minutes, then gently stir. Bake another 10-15 minutes or until golden brown. Remove and let cool completely.
Rhubarb Filling:
Preheat oven to 400 degrees F.
In a large bowl, combine water and chia seeds and allow to soak for 5-7 minutes. Stir in rhubarb, erythritol sweetener, and stevia extract, tossing to coat.
Spread the rhubarb mixture into a 9×13-inch glass or ceramic baking dish. Cover tightly with foil and bake 30 to 35 minutes, or until mixture is bubbling and rhubarb is tender.
Remove filling from oven and remove foil. Break the cooled topping into pieces with your hand and place over the filling to cover completely. Serve warm. If desired, top with lightly sweetened whipped cream.
Note: If using frozen rhubarb, measure rhubarb while still frozen, then thaw completely. Drain in a colander, but do not press the liquid out.
Nutritional Information for 1 Serving:
Calories: 245, Fat 22g, Carbs: 10g, Fiber 5g, Protein 5g
**Nutrition does not include whipped cream topping.