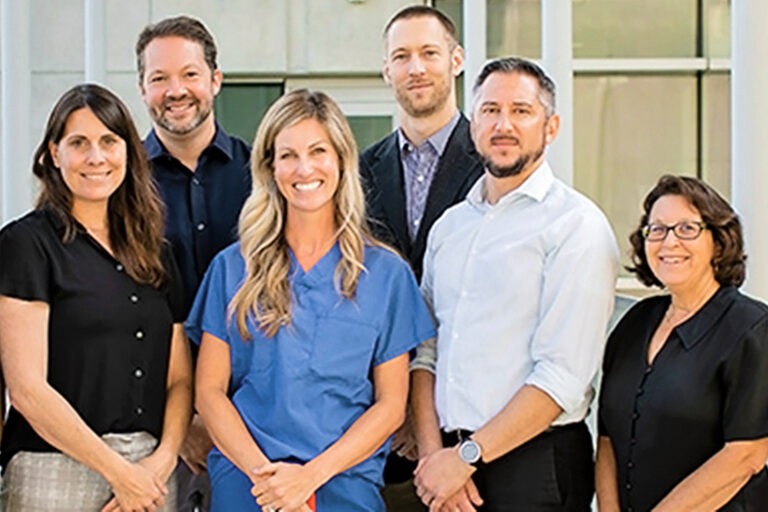 Written by Sara Bock
Reprinted with permission 
Dr. Jeremy Pettus knows firsthand the struggles that his patients with type 1 diabetes deal with—they're the same ones he's faced since he was personally diagnosed at the age of 15.
The lifelong condition, which requires daily management of insulin, can place a sizable burden on patients and their support systems, particularly given the shortcomings of currently available therapies.
Pettus, an associate professor of medicine and board-certified endocrinologist who specializes in treating diabetes at UC San Diego Health, is leading a study on Liver Targeted Insulin (LTI) in type 1 diabetes. The Leona M. and Harry B. Helmsley Charitable Trust recently provided a grant of more than $2 million to UC San Diego to support the research effort.
Pettus and a team of researchers are working to determine the mechanism of action and evaluate the safety profile of the Liver Targeted Insulin. Directing insulin action to the liver may help restore normal liver physiology for people with type 1 diabetes, leading to better glucose control and overall health outcomes.
"Living with type 1 diabetes is extremely tough," said Pettus. "One of the major barriers to helping patients with type 1 diabetes achieve normal glucose levels is that injected insulin simply does not get to the 'right' places. Normal insulin has its main effects in the liver, but patients with type 1 diabetes must inject insulin into the fat tissue. Doing so makes the insulin act very slowly, can lead to weight gain and can cause deadly low blood sugars. This project seeks to attach a molecule to insulin that can help direct it to the liver. In doing so, much of the normal physiology may be restored and patients may get better results."
Pettus is working with the company Diasome to conduct a single-center clinical study with 14 patients with type 1 diabetes to test the safety, tolerability, and effectiveness of the novel LTI.
If this study finds that the LTI is active and preferentially targeting the liver, the findings could spur research and development efforts in the LTI space, leading to additional clinical trials and eventually a novel insulin available that could help improve clinical outcomes.
If you're interested in participating in a UCSD clinical diabetes research study, click here to fill out a survey form. The research team will determine which studies you may be eligible for and reach out to you with information about those studies. You can also download a pdf of the clinical trials flyer here:
About the Helmsley Charitable Trust
The Leona M. and Harry B. Helmsley Charitable Trust aspires to improve lives by supporting exceptional efforts in the U.S. and around the world in health and select place-based initiatives. Since beginning active grantmaking in 2008, Helmsley has committed more than $4 billion for a wide range of charitable purposes. The Helmsley Type 1 Diabetes (T1D) Program is the largest private foundation funder in the world with a focus on T1D, with more than $1 billion to date committed to transform the trajectory of the disease and to accelerate access to 21st century care, everywhere. For more information on Helmsley and its programs, visit helmsleytrust.org.
Click here to view the original article.