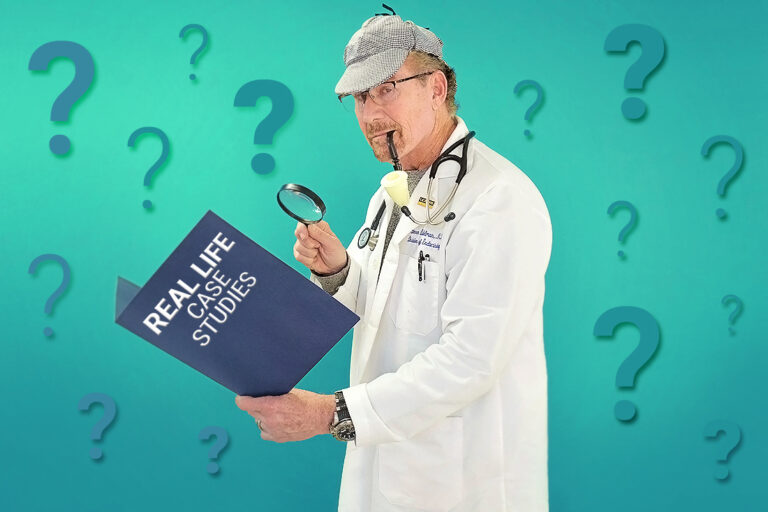 The Patient:
Eleanor is 62 years old and was diagnosed with type 1 diabetes after having gestational diabetes FOUR times over 20 years ago. FOUR times! Her daughters were all born without any complications, and between each pregnancy Eleanor's blood sugars would return to normal. Several months after her last pregnancy though, she presented with type 1 diabetes. Typically these types of cases end up in type 2 diabetes, but never say never and never say always (just like my marriage counselor told me. It did not work!)
Back in the 90s when Eleanor was having her children, it was not the norm for doctors to order insulin autoantibody tests; otherwise they would have been able to determine much sooner that she had early-stage type 1 diabetes.
Eleanor is on MDI (multiple daily injections) consisting of Lantus once a day and fast-acting insulin for meals and correction doses.
Here's a snapshot of Eleanor's 30-Day Dexcom Download: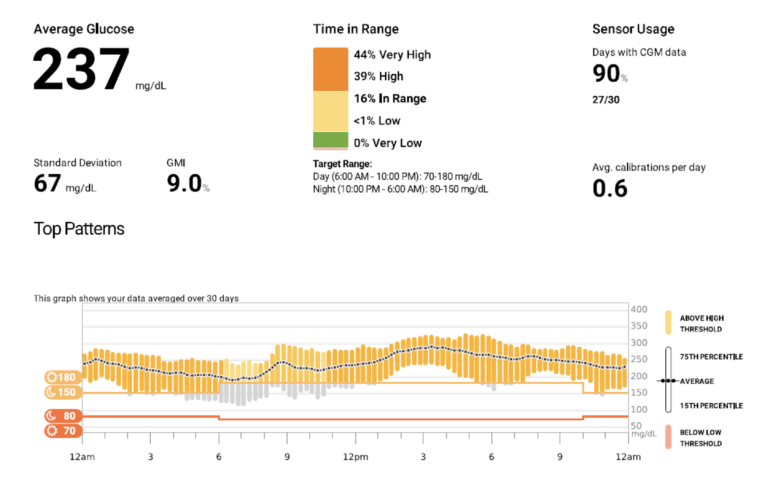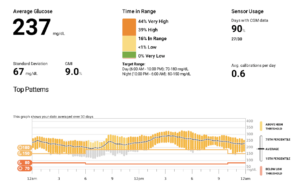 The Problem:
As you can see from Eleanor's download, her average glucose and GMI (estimated A1c) are both very high, and her time in range is only 16%! She's well above 180 mg/dL over 80% of the time, so essentially she's high all day long (and not the good kind).  44% of her numbers are above 250 mg/dL.  Wow!
The other thing to note is that she has a standard deviation of 67. The goal for standard deviation is less than 50, so she does have a lot of variability. You can see from her 24-hour glucose profile that she's high all day long without too many elevations after eating, but just always high and with some variability. She has very few lows. She doesn't have any blood sugars below 55 mg/dL, and less than 1% of the time is she below 70 mg/dL.
Very importantly, she has some complications. She has moderate non-proliferative diabetic retinopathy and mild microalbuminuria – both abnormalities representing early microvascular disease.
Eleanor has been my patient for over 20 years, and she's never had good control. Her A1c has been over 9% for 12 years. She's a very bright businesswoman and her job simply comes first. She does try to follow a good diet and exercise, but she's just not on enough insulin and it's been difficult to introduce her to new therapies. She pays very little attention to her diabetes, and unfortunately she's not willing to make changes. It was a small miracle getting her to agree to start wearing a CGM a few years ago!
The Solution:
In analyzing Eleanor's alert and alarm settings, she has her low alert set to 80 and her high at 200: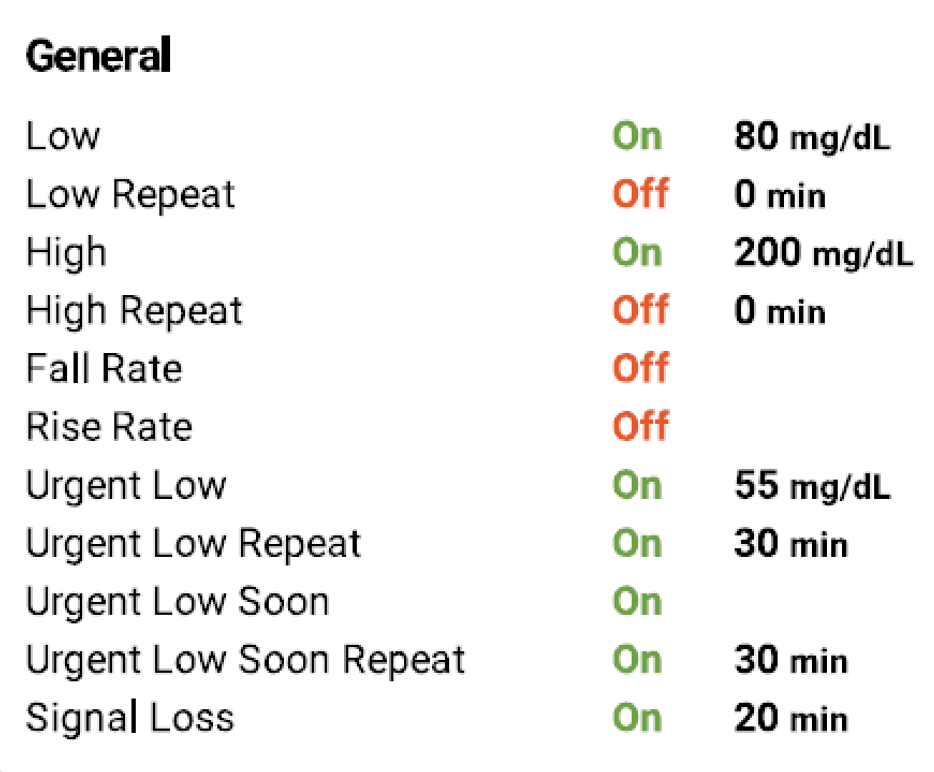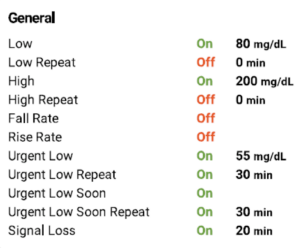 Very importantly, her high repeat alarm is OFF. So once she goes high, she never gets notified again. I've been trying to talk her into a high repeat alarm so if she does a correction dose of insulin with her pen, she can see if it's working over the next couple of hours. Hopefully she'll give that a try.
Here are the suggestions I made during our last visit:
Lower her upper limit to 150 mg/dL during the day but leave it at 200 mg/dL at night so it doesn't keep her awake.
Turn on her repeat high alert and learn how to react to the high alerts, including utilizing the trend arrows (watch my short video on trend arrows here).
Consider going on the iLet hybrid closed-loop system, where all you have to do is enter your weight when you start it up, and you're off and running. You don't even have to count carbs! You just input a simple meal announcement notating a small, medium, or large meal.
Consider seeing a good diabetes psychologist like Bill Polonsky or Susan Guzman. Elenor may need both!
The Takeaway:
Despite being well educated and having good health insurance, some people just have a hard time putting diabetes higher on their priority list. Eleanor has been relatively lucky to have had poor control for so long with fairly minimal complications.