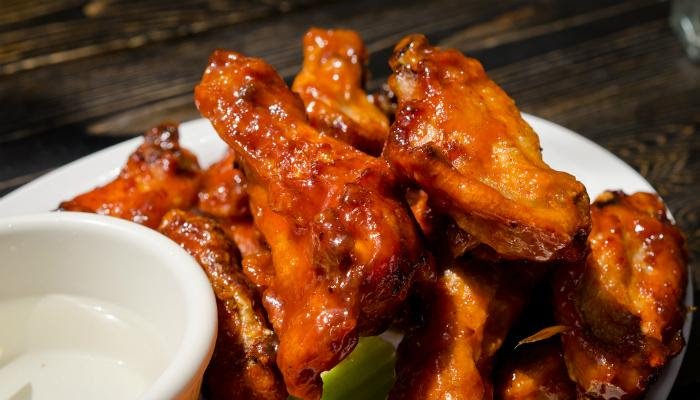 Are you drooling yet?  If the picture looks good enough to eat, wait til you try these mouthwatering, slightly sweet but oh-so-satisfying chicken wings, straight from the kitchen of the Happy Diabetic Chef Robert Lewis!
Ingredients:
Canola food spray
2 pounds chicken wings
½ cup (1 stick) unsalted butter
¼ cup Sriracha
¼ cup honey
1 teaspoons kosher salt
Juice of 1 lime
Chopped fresh cilantro, for garnish
2 tablespoons white sesame seeds, for garnish
Instructions:
Preheat the oven to 375°F.
Spray a foil-lined baking sheet with canola spray (to prevent sticking).
Place the wings on the baking sheet, tucking wing tips beneath the wings to avoid burning them.  Be careful not to crowd the baking sheet.
Roast wings for 20 minutes until tender, crispy and golden brown.
While the wings are roasting, melt the butter in a medium saucepan over low heat. Add the Sriracha, honey, salt, and lime juice, stirring to combine. Keep warm over low heat.
Put the cooked wings in a large mixing bowl and toss with the Sriracha mixture. Plate the coated wings on a large platter, garnishing with cilantro and sesame seeds.
Nutritional Info:
Serving Size: 6 wings
calories: 615, fat: 33g, carbs: 29g, sugar: 18g, protein: 42[/vc_column_text][/vc_column][/vc_row]