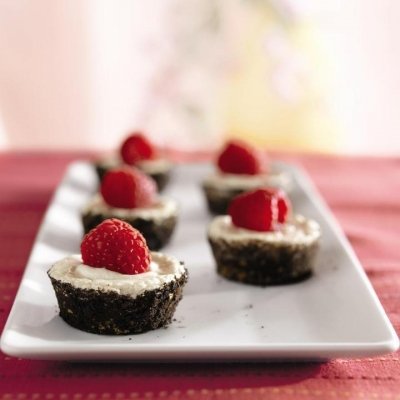 A light and sweet dessert that's perfect for a holiday party or festive get-together!
Yield: 36 Mini Cheesecakes
Ingredients:
3/4 cup chocolate wafer crumbs
1 (8 ounce) package fat-free cream cheese, softened
1 (8 ounce) package reduced-fat cream cheese, softened
1 teaspoon vanilla extract
1 (6 ounce) container fresh raspberries (optional)
1/2 cup fat-free sour cream
1 tablespoon SPLENDA® No Calorie Sweetener, Granulated
1/2 teaspoon vanilla extract
Directions:
Preheat oven to 350 degrees F.
Lightly spray 3 (12-cup) miniature muffin tins with vegetable cooking spray. Sprinkle each muffin cup with 1 teaspoon of chocolate wafer crumbs. Turn pans upside down, and discard excess. Set aside.
Beat cream cheeses at high speed with an electric mixer until creamy; gradually add 1/2 cup SPLENDA® Granulated Sweetener, and beat until at medium speed with an electric mixer for about 2 minutes or until light and fluffy. Add egg yolks and vanilla; beat at low speed just until blended.
Beat egg whites until stiff peaks form. Gently fold into cream cheese mixture; spoon into prepared pans.
Bake for 15 minutes in preheated oven. Spoon about 1/2 teaspoon topping on each cheesecake. Bake for 5 additional minutes. Remove to wire racks to cool. Chill thoroughly before removing from pan.
Topping directions:
Combine sour cream, 1 tablespoons of SPLENDA® Granulated Sweetener, and vanilla extract.
Garnish with fresh raspberries, if desired.
Nutritional Info:
Serving Size: 1 miniature cheesecake