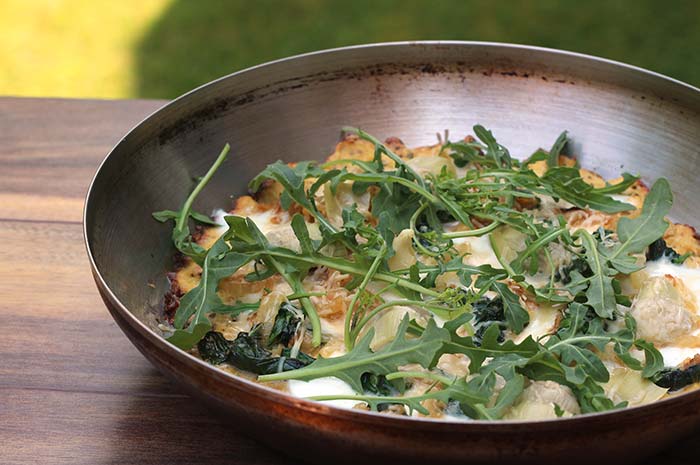 Prep time:  30 min     Cook time:  35 min     Servings:  3
Ingredients:
Crust:
1 head cauliflower cut into florets
1 large egg
1/2 cup buffalo mozzarella or fresh mozzarella shredded
1/2 teaspoon black pepper freshly ground
1/2 teaspoon dried oregano
1 1/2 tablespoons olive oil extra virgin
Toppings:
1 tablespoon olive oil extra virgin
1/2 large onion thinly sliced into half moon shapes
2 cloves garlic minced
2 cups baby spinach
3/4 cup buffalo mozzarella or fresh mozzarella thinly sliced
6 artichoke hearts halved lengthwise
1/4 cup Pecorino-Romano or Parmesan cheese shredded
1 handful arugula
Instructions:
Start Crust:
Place cauliflower florets in a food processor. Pulse until the cauliflower is the size of rice. You should have about 3 1/2 cups.
Transfer to a large microwave-safe dish. Cook at 100% for 8 minutes, uncovered. Allow to cool, stirring occasionally. (If you want the cauliflower to cool faster, spread it out on a clean dish towel or sheet pan.)
Saute Vegetables for Topping:
Meanwhile, heat 1 tablespoon olive oil in a medium skillet over medium-low heat. Add onion and sauté until starting to caramelize, about 10 minutes. You want the onions to be soft and slightly browned.
Add garlic and spinach. Cook, stirring, until spinach wilts. Remove from heat and set aside.
Finish Crust:
Place cooled cauliflower rice in a large, clean dish towel (a floursack-style towel works well). Over the sink or a large bowl, twist and squeeze to remove as much liquid as possible. Transfer cauliflower rice to a dry mixing bowl.
Add egg, shredded mozzarella, pepper, and oregano. Mix well.
Brush 1 1/2 tablespoons olive oil in a 10-inch ovenproof skillet, making sure the surface is completely covered. Press cauliflower mixture to an even thickness in skillet.
Preheat oven to 450°F.
While the oven is heating up, place the skillet with the cauliflower mixture over medium heat on the stovetop to crisp up. Let it stay on the heat for about 5 to 7 minutes, or until starting to brown around the edges.
Transfer the skillet to the oven and bake 10 to 15 minutes, or until golden. Remove from oven and let cool for 5 minutes.
Add Toppings:
Scatter mozzarella slices, spinach mixture, and artichoke hearts over crust. Sprinkle with Pecorino-Romano or parmesan cheese.
Bake until cheese melts, about 5 minutes.
Sprinkle with fresh arugula, cut into 6 slices, and serve.
Recipe Notes:
Some grocery stores sell cauliflower already "riced." Starting with this will save you some time.
If your pizza doesn't slice easily, you either didn't let it crisp enough on the stovetop or you didn't use enough olive oil in the pan. It may not look pretty on the plate, but it will still taste delicious!
Watching sodium? Frozen artichoke hearts (if you can find them) have less sodium than those sold in cans or jars. Also, you may want to use less cheese as both mozzarella and Pecorino-Romano are high in sodium.
Nutrition info per serving (one serving is 2 slices):
Calories: 441 cal, fat: 28g, carbs: 17g, fiber: 6, sugar: 6g, protein: 23g
Recipe shared with permission from DiabeticFoodie.com. Click here to see the original recipes and notes.