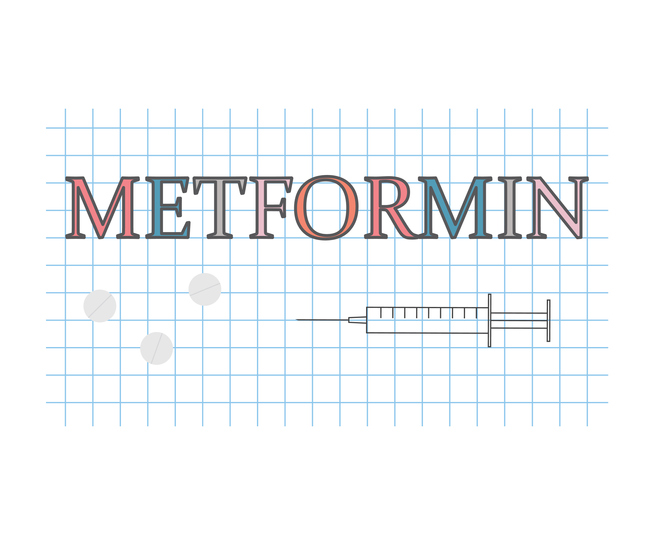 Metformin (Glucophage) has been available in the United States since 1995 and is currently the only biguanide on the U.S. market. However, metformin has been used around the world for over 60 years. Metformin is now recommended as the first drug of choice for people with newly diagnosed type 2 diabetes unless there is a contraindication to it. In fact, it is also recommended to be started immediately upon diagnosis along with lifestyle modification. Metformin is an effective medication that works mainly by preventing the liver from producing too much glucose; however, there are other important mechanisms in the gut as well. In the normal non-diabetic state, one of the important jobs of the liver is to produce just enough glucose to keep the body functioning normally. However, in people with type 2 diabetes, the liver inappropriately overproduces glucose, mainly at night when your body is fasting. This overproduction of glucose at night leads to elevated blood glucose levels, especially in the morning. This is one reason metformin improves the fasting or pre-breakfast blood glucose value as well as at other times. Glucophage is now available in an extended-release formula (Glucophage XR) and in combination with other oral medications. Both the extended-release and combination pills make your daily medication regimen a little easier and simpler (Table 7-4).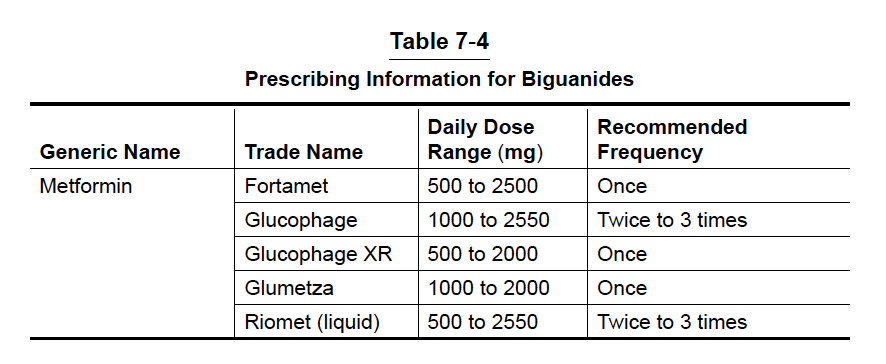 The benefits and shortfalls of metformin are listed in Table 7-5.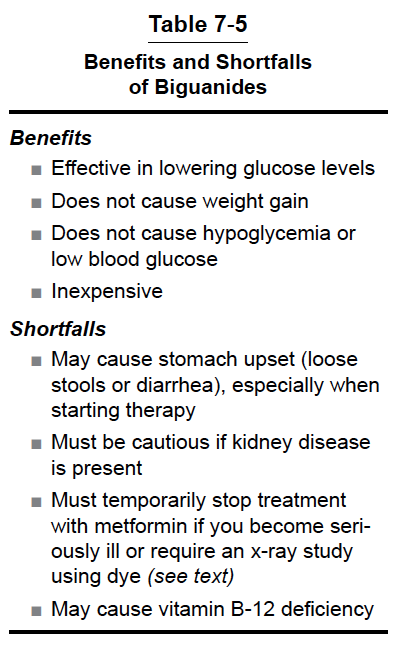 Metformin is effective in lowering glucose values and has made a major impact in this country as the first new oral drug for diabetes to become available in over 60 years after the introduction of the SFUs in the 1950s. Metformin does not stimulate the pancreas to secrete insulin, and this explains why there is virtually no weight gain or problems with hypoglycemia. Weight gain and hypoglycemia are observed with SFUs, Prandin, Starlix, and insulin. In addition, metformin may also improve your cholesterol and triglyceride levels as well as other cardiovascular risk factors, which is an important advantage since heart disease is such a big problem in people with type 2 diabetes. Glucophage has recently been shown to reduce certain types of cancer, including breast cancer.
Shortfalls of Metformin
Metformin is generally well accepted by patients, although it may cause mild stomach upset or loose stools when initiating therapy. If any symptoms occur, they usually do so in the first few weeks after starting the medication. In order to avoid stomach problems, I recommend starting with the lowest dose 500 mg (1 tablet) with dinner for 1 week. If no problems are present after the first week, you may increase the dose to 500 mg 2 times a day with breakfast and dinner, only with the advice of your HCP. Your HCP will adjust your dose further according to the level of improvement seen in your blood glucose values. Most people end up on approximately 2000 mg per day. Metformin is generally a safe medication. However, it is important to have your kidney function tested before you begin taking metformin in order to avoid an uncommon but serious and potentially fatal problem called lactic acidosis. Testing your kidneys involves non-fasting blood tests called the serum creatinine and eGFR (estimated glomerular filtration rate.) If your eGFR is >45 mL/minute/1.73 m2, you can take metformin at full dose. If your eGFR is between 30-45 mL/minute/1.73 m2, you could take a lower dose of metformin (up to 500 mg twice daily) and should discuss the risks and benefits with your HCP. You should also have your kidney function monitored more frequently (every 3 to 6 months) with an eGFR in this range. If your eGFR is < 30 mL/minute/1.73 m2, then you should not take metformin. I would also encourage you to track and keep good records of your kidney function. It is important to understand that metformin is not directly harmful to your kidneys. However, metformin is cleared from the body by the kidney and if the kidneys are not working well, the levels of metformin in your blood can be elevated and cause lactic acidosis. It is also important to remind your doctor(s) that you are taking metformin if you become severely ill at home, are hospitalized, or if you are going to have a radiographic (x-ray) test for which you will be receiving a dye (colored fluid) including certain CT scans and cardiac catheterizations (angiograms.) Metformin should be temporarily halted in these situations and restarted when the acute illness or test is over and normal kidney function resumes.