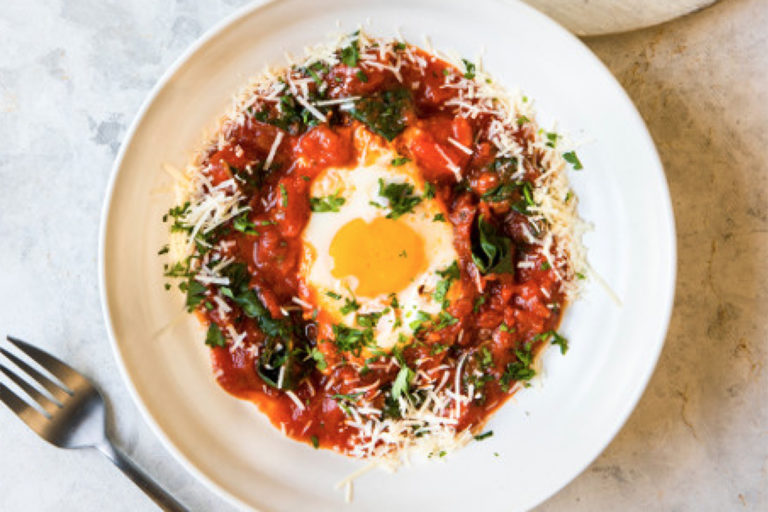 Need a great brunch option? Try shakshuka, a dish that features eggs cooked in seasoned tomato sauce. This version leans toward the Mediterranean with flavors of basil, oregano, garlic, thyme, rosemary, and marjoram.
We made this version with an electric pressure cooker.
Are you afraid to use a pressure cooker? Don't be!
Today's electric versions are a far cry from the noisy, scary one your grandmother had. Conventional pressure cookers (like your grandmother's) were designed to be used on a stovetop. Today's electric pressure cookers (EPCs) are devices you plug in (like a slow cooker). Unlike a slow cooker, which cooks food at a low temperature for a long period of time, an EPC cooks food at a high temperature for a short period of time.
To use an EPC, basically you add your food and a little bit of liquid to the pot. (The liquid is required to build steam.) You seal the lid, set your cook time, and walk away. Now, if your cook time is 10 minutes, don't think your dish will be done in 10 minutes! You'll need to factor in time at the beginning for the pot to come up to pressure and time at the end for the pressure to release. You can release the pressure manually (quick release) or simply by waiting (natural release). Some foods tend to turn out better with a quick release, others with natural. Recipes generally specify which to use.
What are the benefits of using an EPC? You can cook everything in one pot and clean-up is a breeze. The best thing is that you can sauté right in the pot. There's a special setting that allows you to brown things like onions before you add everything else. With a slow cooker, you would have to sauté on the stovetop and then transfer, resulting in another pan to clean. Another benefit is that you can put frozen foods directly into the EPC. They will thaw while the pot is coming to pressure. The options are endless, and you can find lots of great recipes in my new cookbook, The Diabetic Cookbook for Electric Pressure Cookers: Instant Healthy Meals for Managing Diabetes.
For this recipe, your pressure cooker needs to be at low pressure; the first time I made it, I used high pressure and my eggs ended up overcooked. You may also want to look for a pasta sauce that's low in sugar and sodium, or make your own.
Shakshuka with Swiss Chard
Servings: 4
Ingredients:
4 ounces Swiss chard (about 4 large stems and leaves)
2 tablespoons extra-virgin olive oil
½ medium onion, chopped
½ teaspoon kosher salt
½ teaspoon freshly ground black pepper
½ tablespoon Italian seasoning
2 teaspoons minced garlic
1½ cups marinara sauce
4 large eggs
1 tablespoon chopped fresh parsley
2 tablespoons freshly grated Parmesan cheese
Special Equipment: custard cup or small bowl
Directions:
Separate the stems from the leaves of the Swiss chard. Finely chop the stems; you'll need about ½ cup. Stack the leaves, slice into thin strips, then chop. Set aside.
Set the electric pressure cooker to the Sauté setting. When the pot is hot, pour in the olive oil.
Add the Swiss chard stems, onion, salt, pepper, and Italian seasoning to the pot, and sauté for 3 to 5 minutes or until the vegetables begin to soften.
Add the Swiss chard leaves and garlic, and sauté for 2 more minutes.
Hit Cancel. Add the pasta sauce and let the pot cool for 5 minutes.
Make 4 evenly spaced indentions in the sauce mixture. Carefully crack an egg into a custard cup, then pour it into one of the indentions. Repeat with the remaining eggs. (Note you can crack the eggs directly into the pot, but the whites will spread out more and the eggs won't look as nice.)
Close and lock the lid of the pressure cooker. Set the valve to sealing.
Select low pressure and set the timer for 0 minutes.
When the cooking is complete, hit Cancel and quickly release the pressure.
Once the pin drops, unlock and remove the lid.
Sprinkle with parsley and Parmesan, and serve immediately.
Substitution tip: If you don't have Swiss chard, use ½ cup of chopped bell pepper to replace the stems and 2 cups of kale or spinach to replace the leaves.
Nutritional Info per Serving:
Calories: 182, Fat: 12g, Protein: 8g, Carbs: 11g, Sugar: 6g, Fiber: 3g, Sodium: 851mg
This recipe is from diabeticfoodie.com.  Click here to see the original recipe and notes.