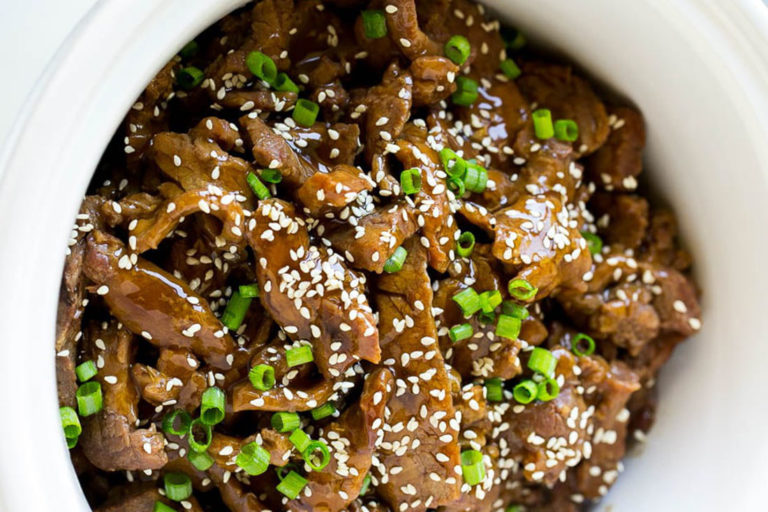 This slow cooker Korean beef is flank steak simmered with soy sauce, sesame oil, brown sugar, garlic and ginger in a crock pot. The meat is fall apart tender. The recipe comes from Sara at dinneratthezoo.com.  Click here to see the original recipe and notes. Consider serving it over cauliflower rice or quinoa for a lower carb "rice" option.
Prep Time: 10 minutes
Cook Time: 3 hours
Servings: 6
INGREDIENTS:
1 1/2 pounds flank steak, thinly sliced
1/4 cup cornstarch
1 tablespoon sesame oil
1 tablespoon rice vinegar
2 teaspoons minced garlic
1 teaspoon minced ginger
1/2 cup beef broth
1/2 cup low sodium soy sauce
1/3 cup brown sugar
1 1/2 teaspoons sesame seeds
2 tablespoons sliced green onions
INSTRUCTIONS:
Place the flank steak and cornstarch in a bowl, stir to coat the meat evenly.
Place the meat in a slow cooker.
In a small bowl, whisk together the sesame oil, rice vinegar, garlic, ginger, beef broth, soy sauce and brown sugar.
Pour the sauce over the meat and stir to combine.
Cover the slow cooker and cook on LOW for 4-5 hours or HIGH for 2-3 hours.
Sprinkle with sesame seeds and green onions, then serve.
NUTRITION:
Calories: 258kcal | Carbohydrates: 18g | Protein: 25g| Fat: 8g | Saturated Fat: 2g | Cholesterol: 68mg | Sodium: 746mg | Potassium: 451mg | Sugar: 12g | Calcium: 4.2% | Iron: 13.2%