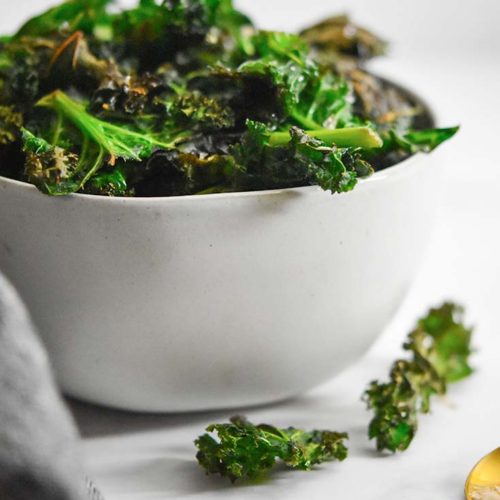 If you're craving some crispy, crunchy deliciousness, then look no further than this baked kale chips recipe — The perfect low carb snack! This recipe is from thelittlepine.com.  Click here for the original recipe and notes.
Prep Time: 10 minutes, Cook Time: 10 minutes
Servings: 12
Ingredients:
10 ounces kale leaves (full leaves are better than pre-chopped)
1 tablespoon olive oil
1/2 teaspoon salt
1/4 teaspoon black pepper
1/2 teaspoon garlic powder
Instructions:
Preheat your oven to 350 F, and line a baking sheet with parchment paper.
Rinse your kale, and wrap the leaves in a dish towel so they dry completely (this can be done the night/day before).
Remove the thick stem from the center of your kale, and chop the leaves into chip sized pieces.
Add kale, olive oil, salt, pepper and garlic powder to a large bowl, and toss to evenly coat.
Spread onto a prepared baking sheet. If you want crispy chips, do this in batches (this took me 3 pans), as over crowding the pan will "steam" your chips instead of crisp them.
Bake in the oven for 12-14 minutes, or until brown. Enjoy!
Nutritional Info:
Calories: 22kcal | Carbohydrates: 2g | Protein: 1g | Fat: 1g | Saturated Fat: 0g | Cholesterol: 0mg | Sodium: 105mg | Potassium: 115mg | Sugar: 0g | Vitamin A: 47.2% | Vitamin C: 34.4% | Calcium: 3.5% | Iron: 1.9%