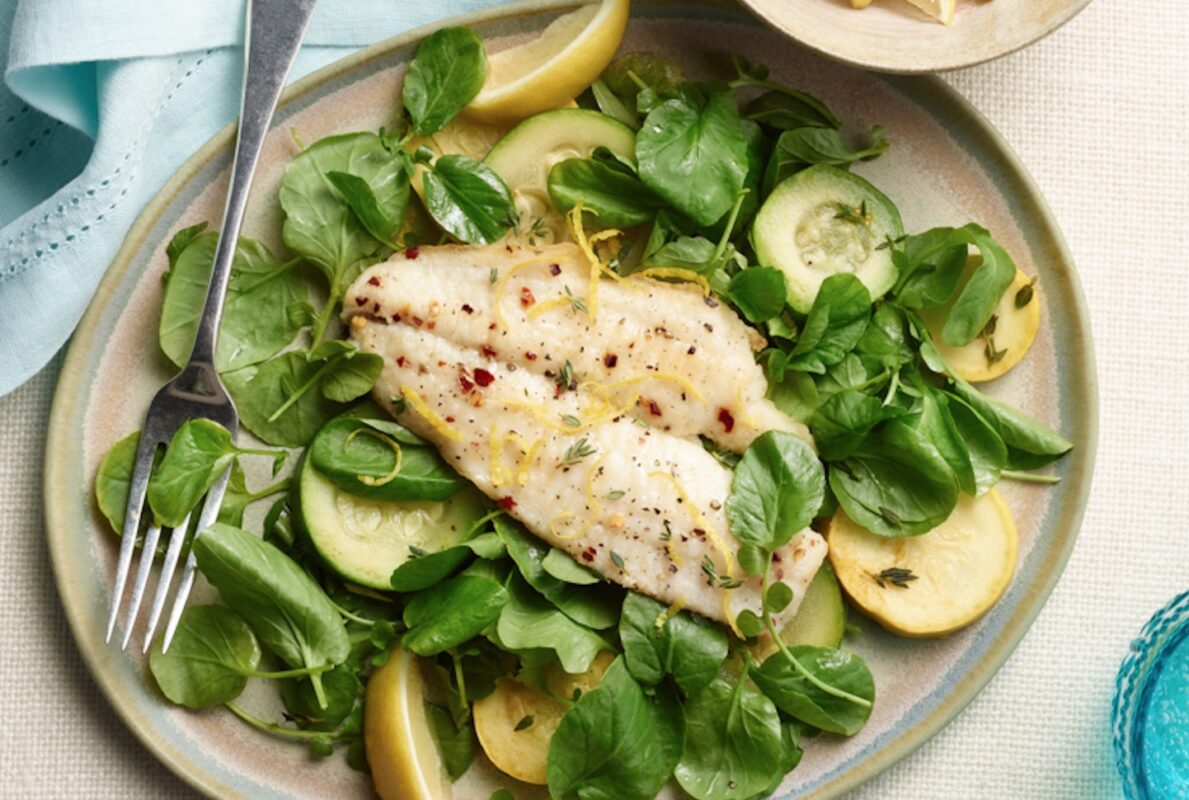 Excerpted from The Mediterranean Diabetes Cookbook, 2nd Edition: A Flavorful, Heart-Healthy Approach to Cooking (American Diabetes Association, May 2019, ISBN: 978-1-580-40702-1, $22.95)
This delicate fish dish is a surprising treat at the end of a long day. Turbot is found in salt waters of both the Atlantic and Pacific oceans. It is also known as flounder, brill, fluke, and plaice. It is a member of the flatfish family, which also contains sole and halibut. Any of those would make fine substitutions in this dish. Given the southern French origin of this dish, it is important to note that the word "turbot" in French refers to a flavorful, diamond-shaped fish, which is different from the Pacific flatfish known as turbot in the United States.
Serves: 4 | Serving Size: 1 fillet | Prep Time: 5 minutes | Cook Time: 20 minutes
Ingredients:
1/2 cup almond flour, or unbleached, all-purpose flour
1/4 tsp grey sea salt or other sea salt
Freshly ground black pepper, to taste
Dash crushed red pepper
4 (1/3-lb) turbot fillets, or other white fish
4 Tbsp extra-virgin olive oil, divided
2 (1-lb) bags frozen yellow and zucchini squash slices, thawed and drained
Juice of 1 lemon
1 cup Homemade Seafood Stock (p. 37), or water
2 sprigs fresh thyme
1 Tbsp balsamic vinegar
1 bunch fresh watercress, washed thoroughly and trimmed
Directions:
Place flour on a plate. Add salt, pepper, and crushed red pepper, and stir to combine. Dip turbot pieces in mixture to coat, and shake off excess. Transfer to a plate and set aside.
Heat 2 Tbsp olive oil in a large, wide, nonstick skillet over medium heat. Add fish and brown on both sides (about 2 minutes per side).
Add zucchini and squash, and pour in lemon juice and stock. Add thyme to the pot, cover, and allow to simmer for 5–10 minutes, or until fish is cooked through and squash is tender. Remove and discard thyme.
Whisk balsamic vinegar with remaining 2 Tbsp olive oil in a small bowl until incorporated.
Toss watercress with balsamic vinegar dressing, taste, and season with salt and pepper as needed. Place watercress on the bottom of a large serving platter or divide among 4 individual plates.
Place fish fillets on top of watercress and scatter zucchini and squash around the sides.
Choices/Exchanges:
2 Non-starchy Vegetable, 4 Lean Protein, 3 1/2 Fat
Nutritional Information:
Calories: 370, Calories from Fat: 220, Total Fat: 24.0g, Saturated Fat: 3.2g, Trans Fat: 0.0g, Cholesterol: 75mg, Sodium: 370mg, Potassium: 990mg, Total Carbohydrate: 13g, Dietary Fiber: 4g, Sugars: 3g, Protein: 29g, Phosphorus: 330mg
Healthy Living Tradition
Watercress contains more vitamin A, B1, B6, and beta-carotene than broccoli, apples, and tomatoes. To include more nutrients in your diet, try using watercress as a "bed" or accompaniment for fish dishes as they do in Greece and North Africa. It can also be added to sandwiches, or used in place of lettuce in salads.
# # #
About the Author:
Amy Riolo is the author of The Mediterranean Diabetes Cookbook, 2nd Edition: A Flavorful, Heart-Healthy Approach to Cooking (American Diabetes Association, May 2019, ISBN: 978-1-580-40702-1, $22.95). She is an award-winning, best-selling author, chef, television personality, and educator.
A graduate of Cornell University, Amy is considered a culinary thought leader who enjoys changing the way we think about food and the people who create it. Amy is a food historian, culinary anthropologist, and Mediterranean Diet advocate who makes frequent appearances on numerous television and radio programs both in the United States and abroad, including FOX TV, ABC, CBS, NBC, the Hallmark Channel, Nile TV, the Travel Channel, Martha Stewart Living Radio, and Abu Dhabi Television.
For more information about Amy, please visit www.amyriolo.com.
About the Book:
The Mediterranean Diabetes Cookbook, 2nd Edition: A Flavorful, Heart-Healthy Approach to Cooking (American Diabetes Association, May 2019, ISBN: 978-1-580-40702-1, $22.95) is available at bookstores nationwide and from major online booksellers.
About the American Diabetes Association:
Nearly half of American adults have diabetes or prediabetes; more than 30 million adults and children have diabetes; and every 21 seconds, another individual is diagnosed with diabetes in the U.S. Founded in 1940, the American Diabetes Association (ADA) is the nation's leading voluntary health organization whose mission is to prevent and cure diabetes, and to improve the lives of all people affected by diabetes. The ADA drives discovery by funding research to treat, manage and prevent all types of diabetes, as well as to search for cures; raises voice to the urgency of the diabetes epidemic; and works to safeguard policies and programs that protect people with diabetes. In addition, the ADA supports people living with diabetes, those at risk of developing diabetes, and the health care professionals who serve them through information and programs that can improve health outcomes and quality of life. For more information, please call the ADA at 1-800-DIABETES (1-800-342-2383) or visit diabetes.org. Information from both of these sources is available in English and Spanish.