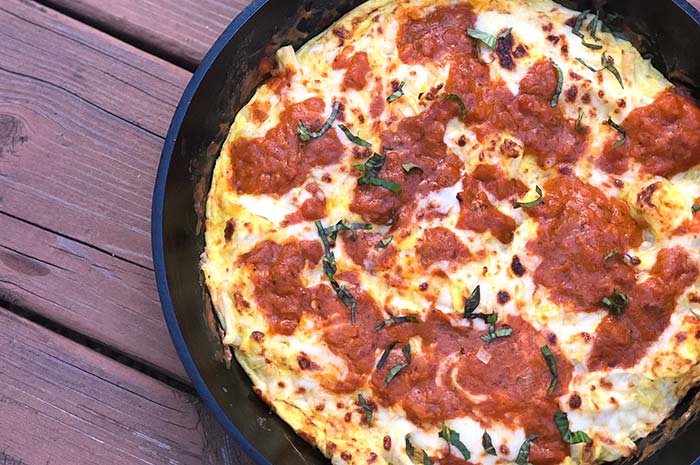 Chicken, cheese, and tikka masala sauce are served in a fun, pizza-style frittata.  This recipe is from diabeticfoodie.com. Click here to see the original recipe and notes. 
PREP TIME:  10 minutes
COOK TIME:  15 minutes
RESTING TIME:  5 mins
TOTAL TIME:  30 minutes
SERVINGS: 4
Ingredients:
6 large eggs
1/8 teaspoon freshly ground black pepper
1 tablespoon olive oil
1/2 cup diced onion
1/2 cup diced green bell pepper or banana pepper
1 cup cooked shredded chicken breast
3 ounces shredded mozzarella
1/2 cup tikka masala sauce
Instructions:
Place rack about 6 inches from heat and preheat broiler.
In a medium bowl, whisk eggs with pepper until well-combined. Set aside.
In an 8-inch ovenproof skillet, heat oil over medium heat. Add onions and peppers and cook, stirring frequently, until the vegetables have softened, 3 to 5 minutes. Stir in the chicken, then pour in the eggs, tilting the pan to distribute the eggs evenly in the pan.
As the eggs begin to set on the bottom, use a spatula to lift the mixture up so the raw eggs flow underneath. When the eggs are about halfway cooked, scatter the mozzarella on top and spoon on the sauce. Remove from heat.
Broil until the top is set, the eggs are cooked, and the cheese has melted, about 5 minutes.
Remove from broiler and let sit for 5 minutes before slicing into quarters and serving.
Nutrition Facts Per Serving (1 serving):
Calories: 277 kcal, Fat: 17g, Sodium: 291mg, Carbs: 7g, Fiber: 1g, Sugar: 3g, Protein: 24g