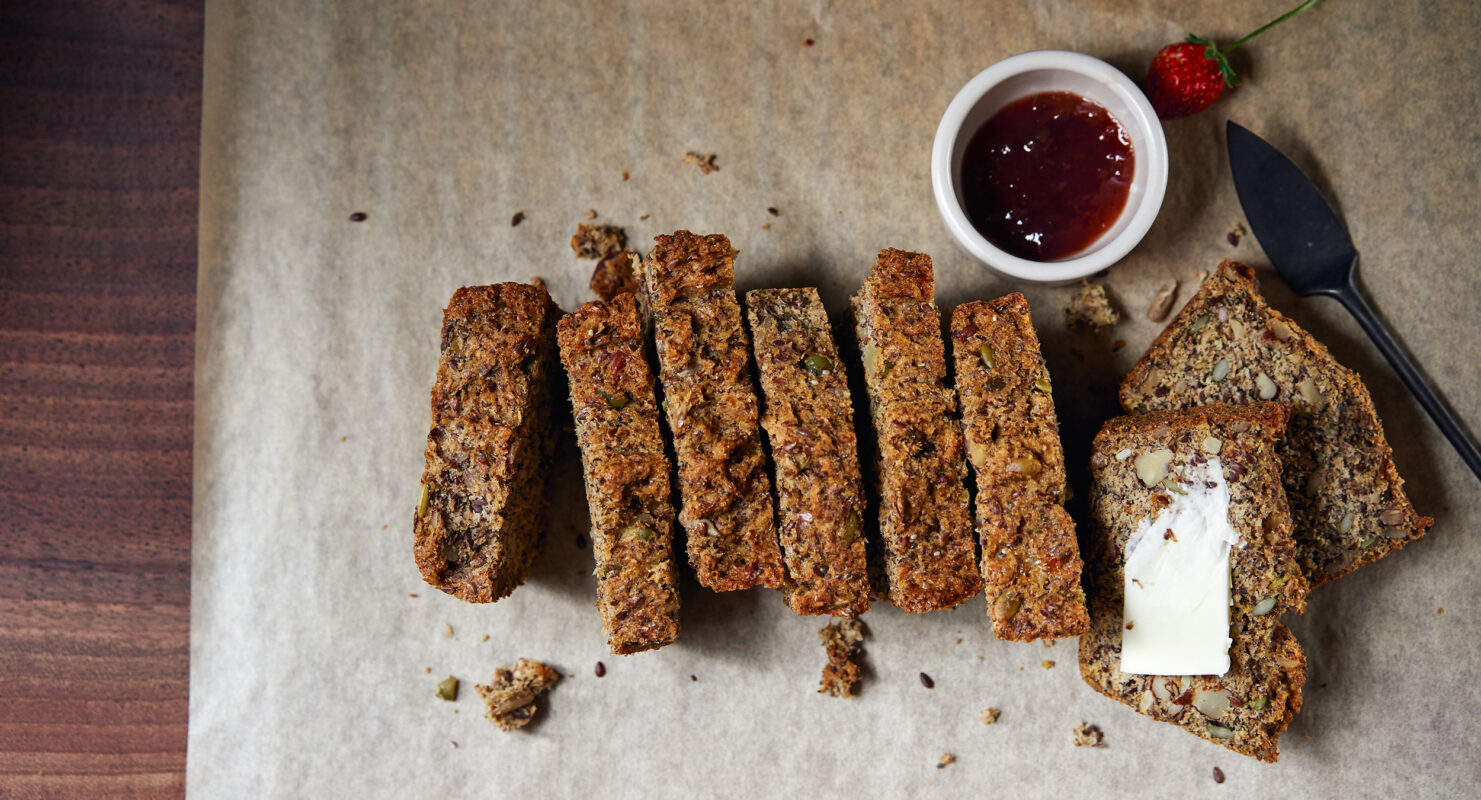 Jennifer Shun is the parent of a type 1 diabetic teen, as well as, a writer and self-proclaimed kitchen addict. She is the author of For Good Measure, which features low-carb, farm-to-table California cuisine — a resource with specific ingredient lists and nutritional data geared to diabetics.  Click here for the original recipe and notes.
Ingredients:
2 cups flax meal
¼ cup unsalted almonds, chopped
¼ cup flaxseeds
¼ cup unsalted pumpkin seeds
¼ cup psyllium husk
¼ cup unsalted sunflower seeds
¼ cup walnuts, chopped
2 tablespoons chia seeds
1 tablespoon baking powder
½ teaspoon salt
¼ cup unsalted butter
5 egg whites
2 eggs
½ cup buttermilk
Instructions:
Preheat oven to 350 degrees.
Line a bread pan with parchment.
Mix flax meal, nuts, seeds, baking powder and salt in a large mixing bowl, set aside.
In a separate bowl, melt butter.
Add egg whites, eggs and buttermilk, whisking until well combined.
Add egg mixture to flax mixture, stirring until well combined.
Transfer dough to prepared bread pan.
Bake for 40 minutes, until golden.
Remove from pan to cool.
NuTRITIONAL INFORMATION:
YIELD: 12     SIZE: 1 slice     CARBS: 16g     NET CARBS: 3g *
CALORIES: 302   TOTAL FAT: 23g  DIETARY FIBER: 13g  SODIUM: 183mg  SUGARS: 1g  PROTEIN: 10g
* Net carbs simply refers to carbs absorbed by the body. To calculate in whole foods, such as those listed on our ingredient lists, we subtracted the fiber from the total number of carbs.