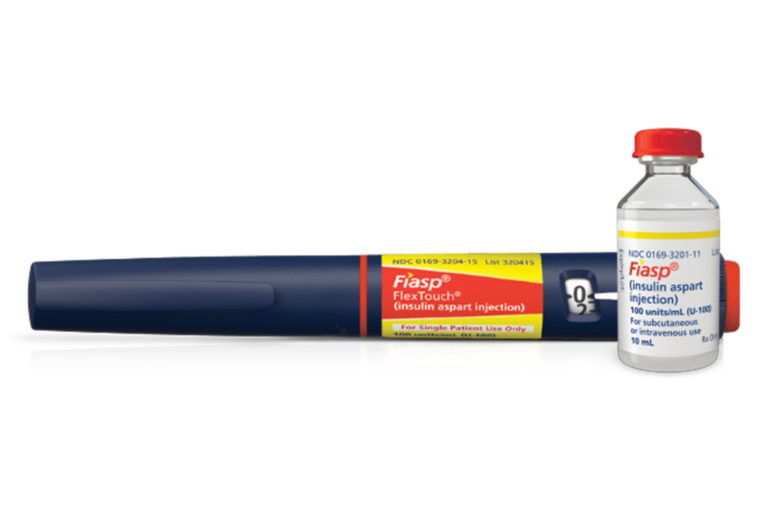 Fiasp® (Faster Insulin Aspart Injection), which has been available in the U.S. since 2017, was approved by the Food & Drug Administration (FDA) in October 2019 for use in insulin infusion pumps.1 This is great news for the approximately 350,000 patients in the U.S. who are already using insulin pumps.2 Insulin pumps can provide benefits to many patients, including those who may be tired of multiple injections every day, experience frequent low blood sugar levels, experience delays in food absorption, or those who are very active.3
What is Fiasp®?
Fiasp® is a rapid-acting human insulin analog that is approved for use in either type 1 or type 2 diabetes.1 The active ingredient in Fiasp®, insulin aspart, binds to insulin receptors and allows glucose in the bloodstream to enter the cells of the body to be used for energy. Furthermore, it prevents the production of glucose by the liver and prevents the body from breaking down fats and proteins for energy. Fiasp® is unique from other insulin aspart formulations as well as other rapid-acting insulins such as lispro and glulisine because it has added excipients (other ingredients) that cause it to be absorbed even more rapidly. Specifically, Fiasp® is insulin aspart combined with niacinamide and L-arginine. The niacinamide accelerates absorption and the L-arginine stabilizes the formulation.4 This formulation was developed with the intention of more closely replicating endogenous prandial insulin release with better early glucose lowering. In the ONSET Trials, Fiasp® was shown to be non-inferior to insulin aspart in terms of safety and efficacy.5 This means that Fiasp® is just as safe and effective as insulin aspart (NovoLog®). Fiasp®  is available in an injectable formulation with a concentration of 100 units/mL. It is packaged in various forms including 10 mL multiple-dose vials, 3 mL single-patient-use pens, and 3 mL single-patient-use cartridges. Since it is a rapid-acting insulin, it must be taken at the beginning of the meal or within 20 minutes after starting a meal.1
How does it work in an Insulin Pump? 
Fiasp® can now be administered through a pump just like any other rapid-acting insulin. The proper administration varies depending on the pump system and users should follow the instructions for their specific device. In the trials that have been conducted so far, patients who switched from NovoLog® to Fiasp® did not have to change their pump settings because the dose conversion is 1:1. However, it is still recommended to monitor pump settings and blood glucose changes closely when switching the type of insulin used in a pump.6 Additional studies are underway that may provide more evidence for best practices of Fiasp® use in insulin pumps. According to the manufacturer's package insert, Fiasp® can be used in accordance with the pump user manual just as patients already use insulin aspart.1
What could go wrong?
Hypoglycemia, or low blood sugar, is the most common adverse effect that patients can experience with Fiasp®. It is always important to frequently monitor blood glucose levels when using insulin. In most trials, Fiasp® did not cause significantly more episodes of severe hypoglycemia compared to NovoLog®.5 However, in one study of patients with type 1 diabetes, patients who were given Fiasp® reported more episodes of hypoglycemia within the first hour after a meal compared to patients treated with NovoLog®.7 People with diabetes often report less hypoglycemia after their dose is adjusted over time. Anyone using Fiasp® should be able to recognize the signs of low blood sugar such as dizziness, light-headedness, blurred vision, sweating, confusion, slurred speech, shakiness, hunger, and fast heartbeat. CGM (Continuous Glucose Monitoring) can help. As with all types of insulin, there is also a potential for weight gain, low potassium levels, and lipodystrophy, a problem where abnormal lumps form under the skin.1
Impact
Since their first introduction in the 1970s, insulin pumps have provided a beneficial alternative to multiple daily injections for insulin delivery.8,10 Both regular insulin and rapid-acting insulins are viable options that can be used in insulin pumps.7 However, rapid-acting insulins have become a more favorable choice due to the fact that they can produce better glycemic control with lower daily doses.9 Currently, patients have several options for rapid-acting insulin compatible with pumps. This includes insulin lispro, insulin glulisine, insulin apart, and now fast-acting insulin aspart (Fiasp®). With the short onset and flexibility to stay in the reservoir for up to 6 days, insulin aspart and fast-acting insulin aspart are convenient for many people. In comparison, insulin lispro (Humalog) and insulin glulisine (Apidra) are only approved up to 2 days. Fiasp® is an exciting new option for people that may help improve their post-prandial glucose. The studies have shown Fiasp® is as effective as NovoLog® and generally as safe, but more studies are needed to determine whether Fiasp® can improve long-term outcomes.5 Making the switch to Fiasp® is fairly simple and patients now have another option in managing their diabetes.
Authors:
Julia Barbour, 4th Year Student Pharmacist, Western University Health of Sciences
Joseph Prey, 4th Year Student Pharmacist, Western University of Health Sciences
David Q. Pham, PharmD, BCPS, CDE, BC-ADM, Associate Professor of Pharmacy Practice at Western University of Health Sciences, College of Pharmacy and Diabetes Pharmacist at the Mary & Dick Allen Diabetes Center at Hoag Hospital, Newport Beach.
References:
FIASP® (insulin aspart) [prescribing information]. Plainsboro, NJ: Novo Nordisk Inc; October 2019.
Diabetes Care. 2018 Aug;41(8):1579-1589. doi: 10.2337/dci18-0002. Epub 2018 Jun 23.
"Insulin Pumps: Relief and Choice." ADA, https://www.diabetes.org/diabetes/medication-management/insulin-other-injectables/insulin-pumps-relief-and-choice. Accessed December 3, 2019.
Heise T, Pieber TR, Danne T, Erichsen L, Haahr H. A Pooled Analysis of Clinical Pharmacology Trials Investigating the Pharmacokinetic and Pharmacodynamic Characteristics of Fast-Acting Insulin Aspart in Adults with Type 1 Diabetes. Clin Pharmacokinet. 2017;56(5):551-559. doi:10.1007/s40262-017-0514-8
Davis A, Kuriakose J, Clements JN. Faster Insulin Aspart: A New Bolus Option for Diabetes Mellitus. Clin Pharmacokinet. 2019;58(4):421-430. doi:10.1007/s40262-018-0696-8
Evans M, Ceriello A, Danne T, et al. Use of fast‐acting insulin aspart in insulin pump therapy in clinical practice. Diabetes Obes Metab. 2019;21(9):2039-2047. doi:10.1111/dom.13798
 Klonoff DC, Evans ML, Lane W, et al. A randomized, multicentre trial evaluating the efficacy and safety of fast-acting insulin aspart in continuous subcutaneous insulin infusion in adults with type 1 diabetes (ONSET 5). Diabetes Obes Metab. December 2018. doi:10.1111/dom.13610
McAdams, Brooke H, and Ali A Rizvi. "An Overview of Insulin Pumps and Glucose Sensors for the Generalist." Journal of Clinical Medicine vol. 5,1 5. 4 Jan. 2016, doi:10.3390/jcm5010005
Radermecker, Régis Pierre, and André Jacques Scheen. "Continuous Subcutaneous Insulin Infusion with Short‐Acting Insulin Analogues or Human Regular Insulin: Efficacy, Safety, Quality of Life, and Cost‐Effectiveness." Wiley Online Library, John Wiley & Sons, Ltd, 1 Mar. 2004, https://www.onlinelibrary.wiley.com/doi/pdf/10.1002/dmrr.447.
Selam, Jean-Louis. "Evolution of Diabetes Insulin Delivery Devices." Journal of Diabetes Science and Technology, vol. 4, no. 3, May 2010, pp. 505–513, doi:10.1177/193229681000400302.