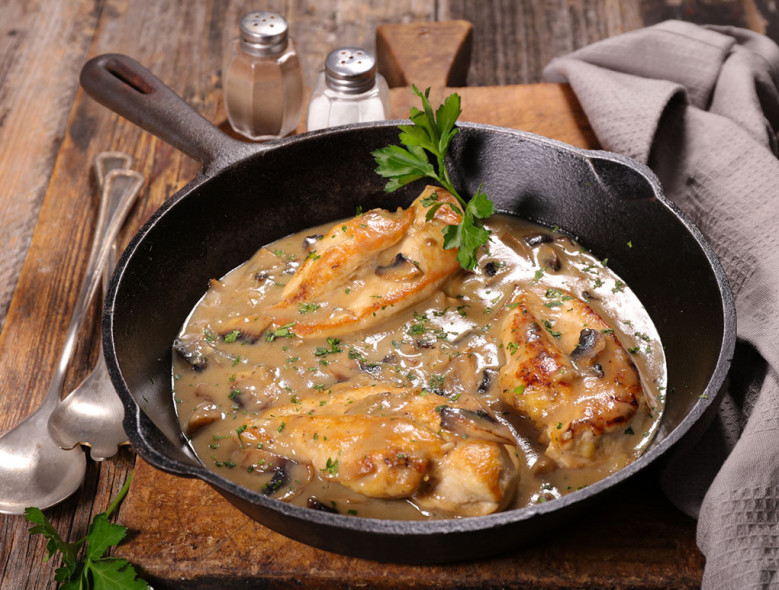 Although chicken thighs are less expensive than chicken breasts (and have more flavor!) they still aren't as popular in mainstream cooking. This recipe is a great intro to preparing chicken thighs, and it makes a tasty, low-carb, budget-friendly meal.
This recipe is from the American Diabetes Association's Diabetes Food Hub. Click here for the original recipe and notes.
Servings: 4
Ingredients:
1 T       olive oil
1 lb      boneless, skinless chicken thighs
1 tsp    margarine
½        onion, finely diced
8 oz     white button mushrooms, sliced
3 T       balsamic vinegar
1 ½ c   low sodium chicken broth
Directions:
Heat oil in a large Dutch oven over medium-high heat.
Add chicken thighs and sauté for 3 minutes per side. Remove from pan and set aside.
Add margarine to pan and melt. Add onion and sauté for 2 minutes. Add mushrooms and sauté for 3-5 minutes until liquid is released; stirring frequently.
Add balsamic vinegar to pan and cook with mushrooms for 1 minute. Add chicken thighs back to pan and place mushrooms on top of chicken. Pour chicken broth into pan.
Bring the chicken broth to a boil. Reduce the heat to medium-low, cover the pan with a heavy,
tight-fitting lid, and simmer for 25 minutes.
Nutritional Info for 1 serving:
Calories: 205, Fat: 11g, Carbs: 6g, Fiber: 1g, Sugar: 4g, Protein: 21g