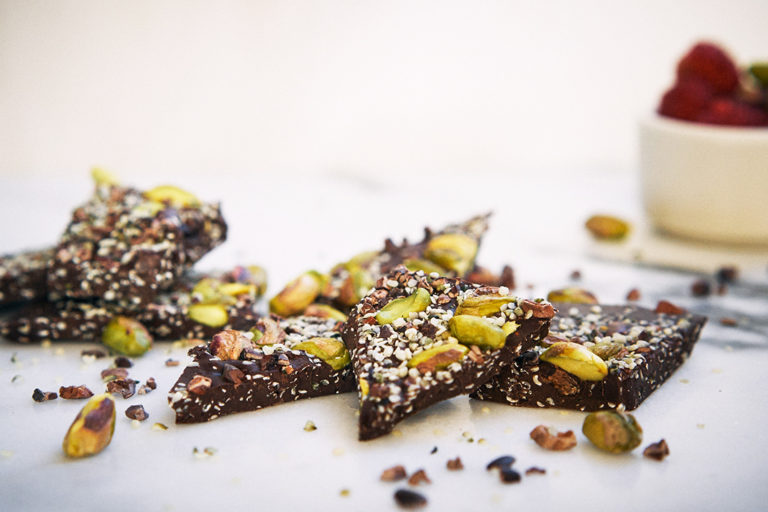 Jennifer Shun is the parent of a type 1 diabetic teen and is the author of For Good Measure, which features low-carb, farm-to-table California cuisine — a resource with specific ingredient lists and nutritional data geared to people living with diabetes.  Click here for the original recipe and notes.
Servings: 14
Ingredients:
14 ounces 85% dark chocolate
¾ cup raw shelled hemp seeds, divided
3 tablespoons cocoa nibs
Directions:
Line a rimmed baking sheet with aluminum foil.
Break apart chocolate into small pieces.
Set a double boiler over medium heat. *
Add chocolate pieces and stir occasionally until melted.
Remove from heat and add ½ cup hemp seeds, stirring until combined.
Pour chocolate mixture onto prepared sheet.
Sprinkle remaining ¼ cup hemp seeds, pistachio kernels and cocoa nibs over surface.
Place pan in freezer for ten minutes, remove, and finish setting at room temperature for one hour.
Peel away aluminum foil and break into quarter-sized pieces.
Store refrigerated in an airtight container.
Naturally low-carb & gluten-free
* If you do not have a double boiler, simmer a few inches of water in a medium saucepan, fit a glass bowl inside, ensuring water does not enter the container.
Nutritional Info per serving (1 serving = 2 tbsp):
Calories: 281, Fat: 22g, Carbs: 12g, Fiber: 4g, Sugar: 3g, Protein: 7g