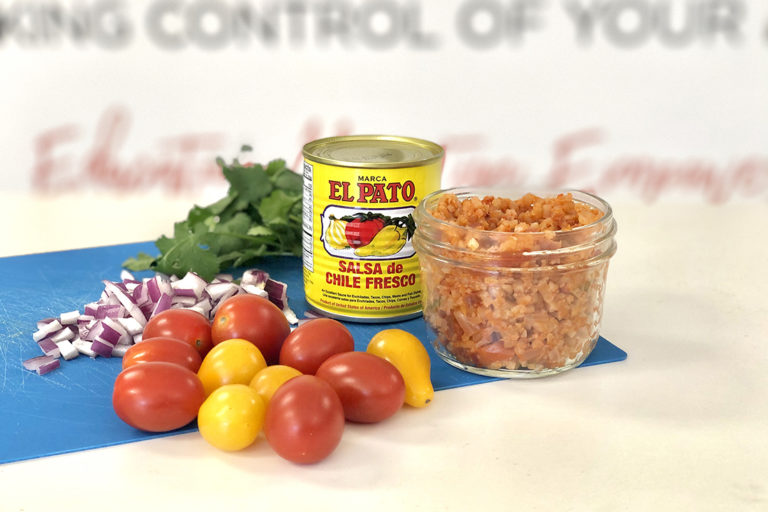 If you're like me, the taste of cauliflower can be overwhelming, and sometimes you want to not care about the extra carbs in rice! But, after much trial and error…I've finally accomplished a cauliflower rice dish that hardly tastes like cauli. Husband-approved!
Servings: 3
What You'll Need:
1/3 red onion, diced
Handful (4 -6) of cherry tomatoes, diced
1 package of cauliflower rice ( I use the Earthy Choice kind from Costco; 8.5 oz bags)
½ can of El Pato hot tomato sauce – key ingredient! ( 7.75 oz can )
2 tsp avocado or olive oil
Optional Ingredients:
Cilantro
Cotija cheese
Canned green chilies
Directions:
Sauté and season the red onion with salt and pepper in olive or avocado oil until translucent.
Add in the bag of cauliflower rice.
Add in the half can of El Pato.
Cover and simmer for about four minutes.
Open that baby up, throw in those diced tomatoes and stir and cook for an additional three to four minutes.
DONE! You can throw in some cilantro and green chilis for extra flavor and top with Cotija cheese for an almost authentic Spanish style rice.
For a delicious burrito bowl, you can add cooked chicken chunks, roasted veggies, and guacamole.
Adios!
Nutritional Info for 1 Serving:
Calories: 67, Fat: 3g, Carbs: 8g, Fiber: 2g, Protein: 1.5g, Sugar: 4.5g