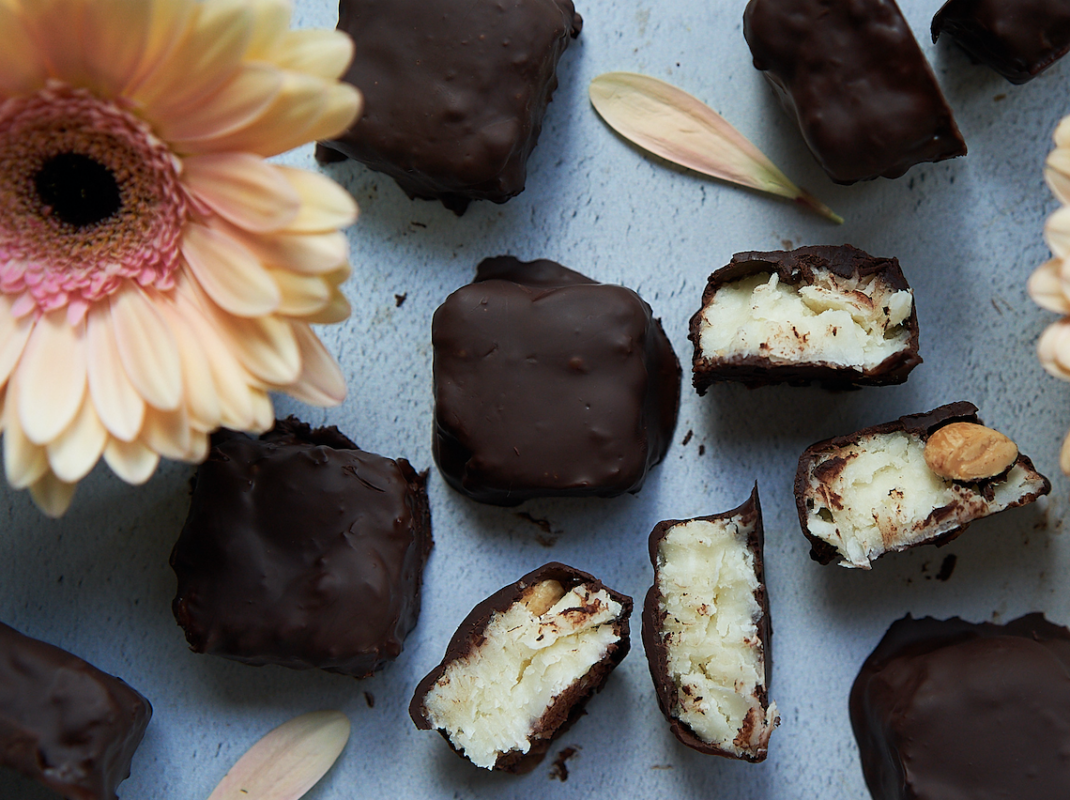 Jennifer Shun is the parent of a type 1 diabetic teen and is the author of For Good Measure, which features low-carb, farm-to-table California cuisine — a resource with specific ingredient lists and nutritional data geared to people living with diabetes.  Click here for the original recipe and notes.
Ingredients:
1 cup  coconut milk powder
¼ cup unsalted butter, melted
¼ cup water, boiling
¼ tsp salt
4 cups shredded, unsweetened coconut
½ cup almonds, dry-roasted
11 oz. 85% dark chocolate
Directions:
Line a baking sheet with parchment.
In a medium bowl, blend coconut milk powder, butter, water, salt, until smooth.
Add coconut, stirring to combine.
Scoop coconut mixture by tablespoonfuls, placing on prepared sheet. *
Top each with 2 almonds.
Freeze for 30 minutes, until firm.
Break apart chocolate into small pieces.
Set a double boiler over medium heat. **
Add chocolate pieces and stir occasionally until melted.
Dip frozen coconut pieces in melted chocolate, returning to parchment-lined sheet.
Freeze for 10 minutes, remove, and finish setting at room temperature for one hour.
Store refrigerated in an airtight container.
Naturally low-carb & gluten-free
* Use a silicone candy mold for a more structured candy. Place almonds in mold first, adding coconut mixture after. After freezing, remove frozen mixture from mold before dipping in chocolate.
**If you do not have a double boiler, simmer a few inches of water in a medium saucepan, fit a glass bowl inside, ensuring water does not enter the container.
Yield: 24
Nutritional Info for 1 piece of candy:
Calories: 275, Fat: 25g, Carbs: 11g, Fiber: 4g, Sodium: 72mg, Sugars: 3g, Protein: 3g