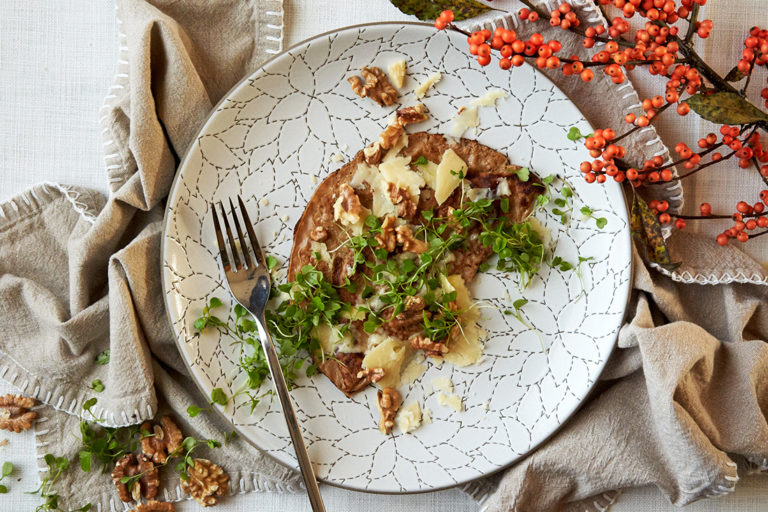 Jennifer Shun is the parent of a type 1 diabetic teen and is the author of For Good Measure, which features low-carb, farm-to-table California cuisine — a resource with specific ingredient lists and nutritional data geared to people living with diabetes.  Click here for the original recipe and notes.
Called Necci in Italian, chestnut flour crepes pair excellently with sharp cheddar and toasted walnuts for a decadent, flavorful breakfast or alongside a crisp salad or bowl of soup. They would also work well with a lighter cheese like ricotta or brie, topped with a low-carb jam. 
Ingredients:
3 eggs
1 cup water
½ cup chestnut flour
2 tablespoons butter, divided
1 cup cheddar cheese, shredded
1 cup walnuts, toasted*
Directions:
Whisk eggs, water and chestnut flour until smooth.
Rest for 10 minutes.
Heat a small non-stick skillet on medium. Working in batches, melt ¼ tablespoon of butter in pan. Pour ¼ cup of batter into pan, tilting to coat the bottom evenly. Cook until crepe lifts easily from bottom of pan, about 2 minutes.
Using a spatula, flip to cook the reverse side.
Add 2 tablespoons of cheese & walnuts, folding the crepe in half to melt.
Repeat with remaining batter.
Naturally low-carb & gluten-free
* To toast walnuts, heat a non-stick skillet on medium-high. Add walnuts in a single layer. Cook for 5 minutes, stirring frequently. Remove from pan to cool.
Yield: 8
Nutritional Info for 1 serving:
Calories: 227, Total Fat: 17g, Carbs: 12g, Dietary Fiber: 2g, Sugars: 3g, Protein: 7g