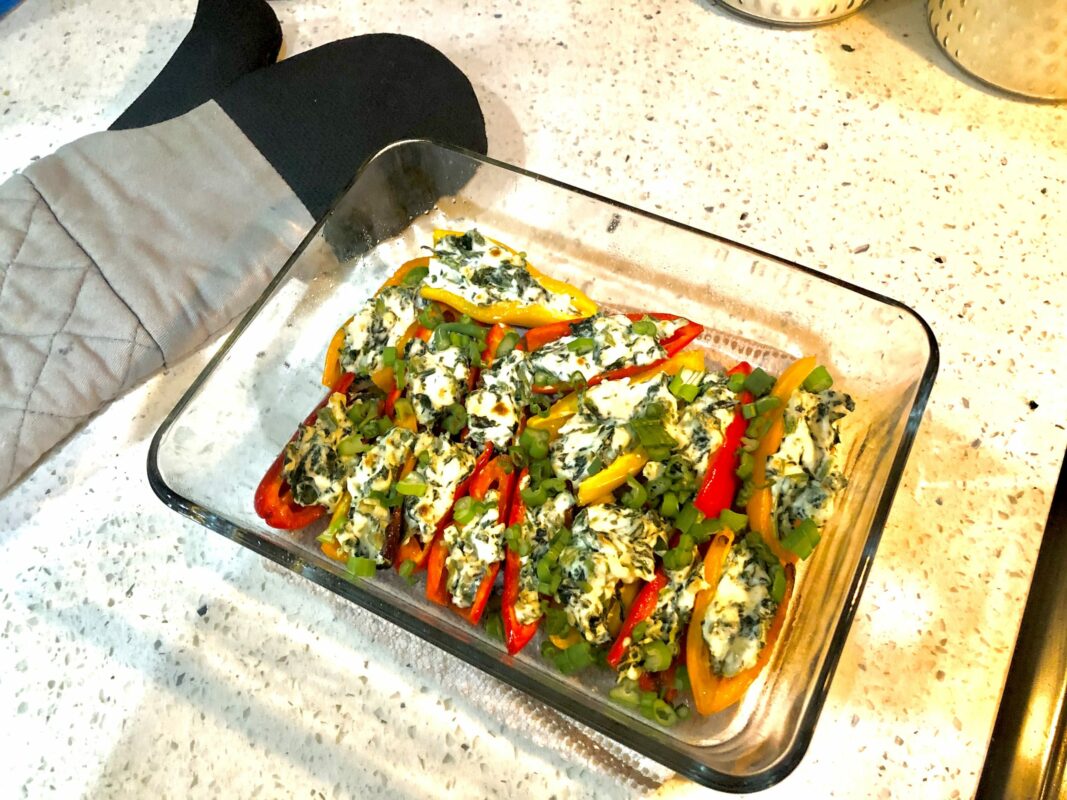 No big games to watch on TV? No problem! These garlic cream cheese & spinach stuffed peppers are the perfect "game day" app for your next competitive home isolation game of Monopoly.
Ingredients:
8 mini sweet peppers
8 oz cream cheese
~1/2 cup green onion, finely chopped (reserve a  few pinches)
2 Tbsp minced garlic (or to taste, I am heavy on the garlic)
~1 cup frozen spinach (thawed, excess moisture removed, you can also finely chop fresh spinach)
2 Tbsp cooking oil
Prep work:
1. Let cream cheese soften at room temperature 30-60 min
2. If using frozen spinach, thaw at  room temperature or in a skillet at low heat for a few minutes (according to package directions). Once thawed, place  ~1 cup or a generous handful into a clean kitchen towel or paper towel, and wring out excess water over the sink. If using fresh spinach, finely chop ~ 1 cup.
Directions:
1. Slice the cap off of each mini pepper and remove the inner core/seeds. Cut lengthwise.
2. Heat oil in a stove top pan. Lay each pepper-half skin side down and cook on med-high heat for a few minutes, until you get some charred marks.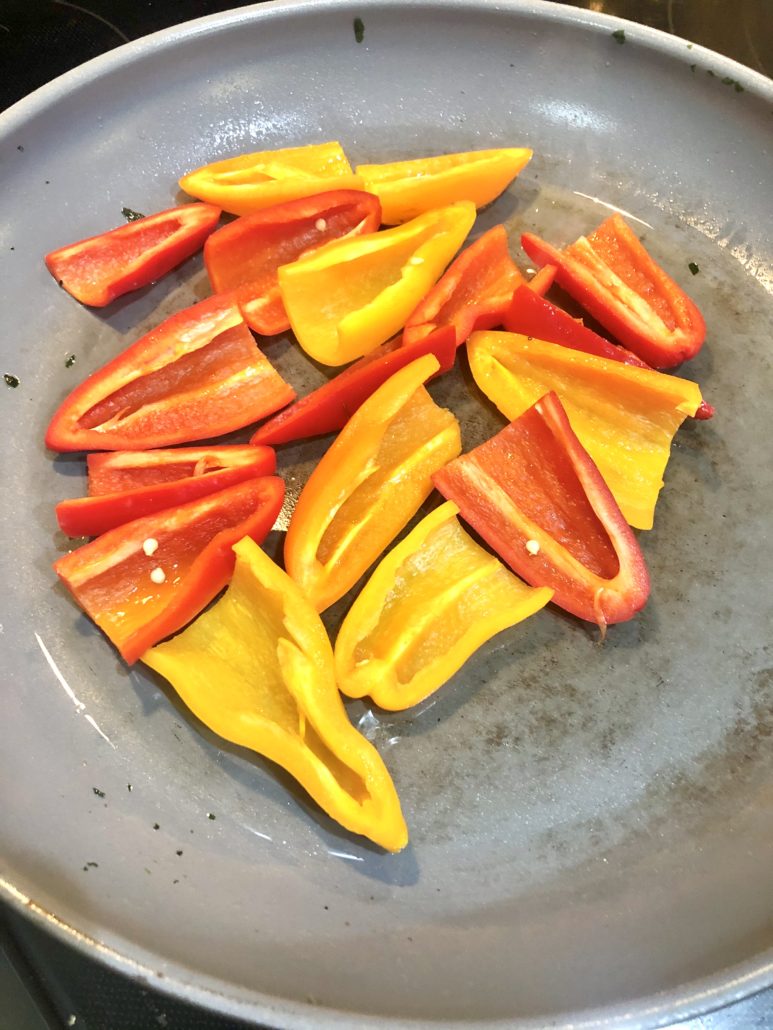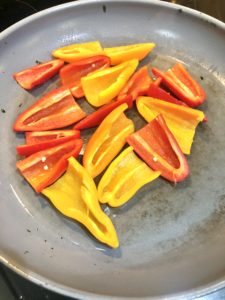 3. While the peppers are cooking, add spinach, garlic, and all but a few pinches of the green onion to the cream cheese and mix well.
4. Remove the peppers from pan onto a cutting board and let cool just enough to be handled.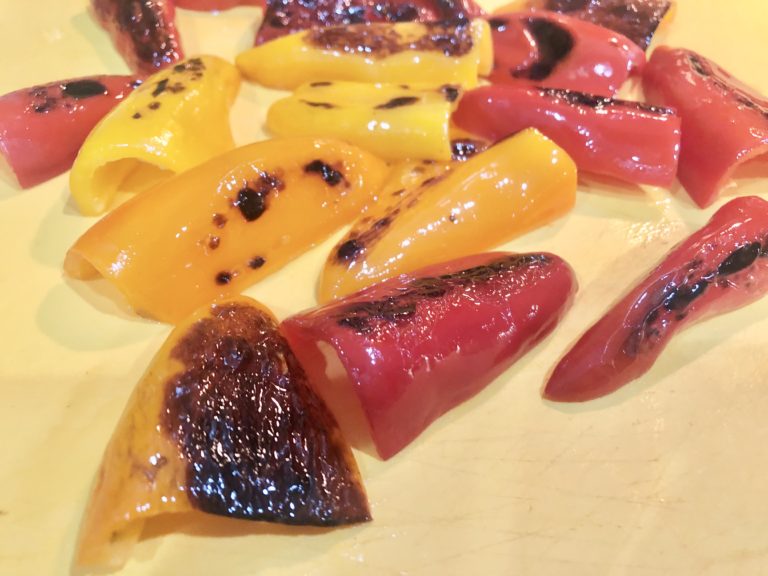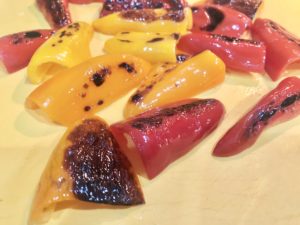 5. Use a spoon to scoop about 1 teaspoon of the cream cheese filling into each pepper-half.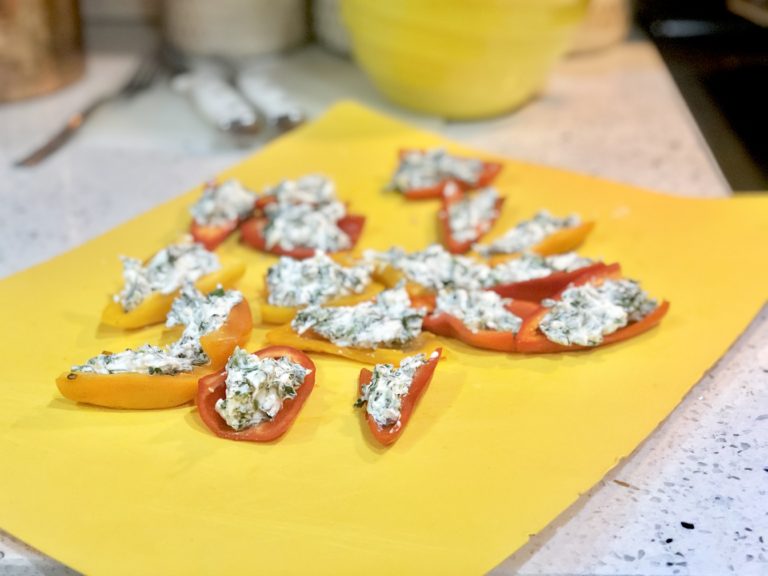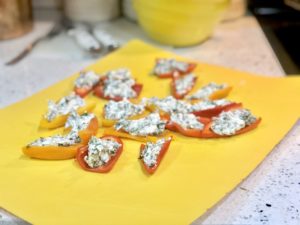 6. Place the peppers in an oven safe dish and broil for 5 minutes.
7. Garnish with reserved chopped green onion.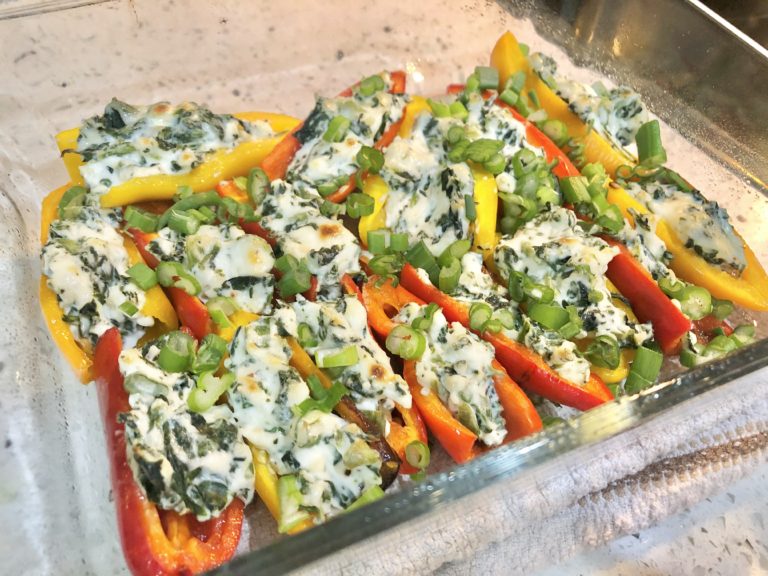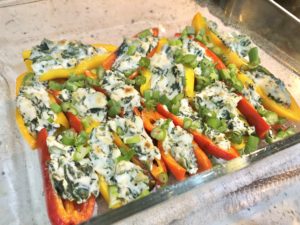 Notes:
I did mix the entire 8 oz block of cream cheese with the garlic, spinach, and green onion, and about half remained when I prepared only 8 mini peppers (16 halves). You could either double the peppers, or use the cream cheese mixture for something else (bagel, toast, sandwich spread, on top of salmon, cucumber bites, baked potato, pasta dish, roasted veggies, etc.). You could also get creative adding in any spices you prefer.
Approximate Nutritional Info for 1 Pepper Half:
Calories: 21, Fat: 1g, Carbs: 1.5g, Protein: 1g