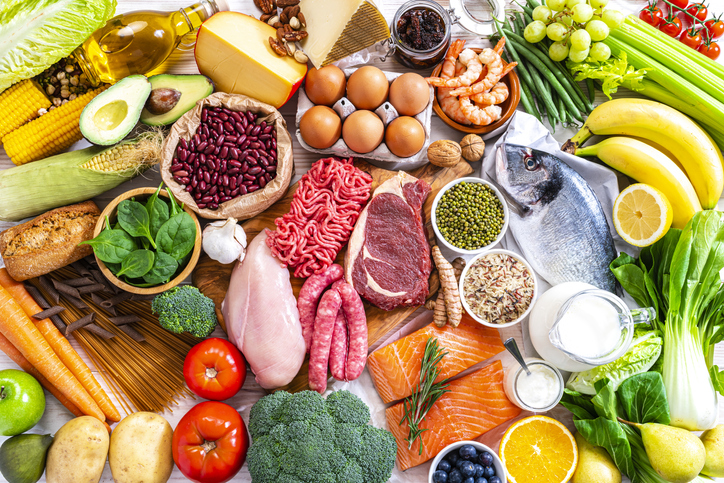 With cold weather comes cold and flu season. Support your health by making better nutrition choices. Focus on adding foods to your diet that are rich in nutrients that support immune system health.
The Secret's in the Sources
Many common foods are good sources of nutrients to support your immune system. These include antioxidants – vitamins C & E, as well as protein, vitamins D & A, and zinc. The information below outlines these nutrients, their associated food sources, and tips for incorporating them into your diet.
Tip 1: Choose Foods with These Immune Supporting Nutrients

Vitamin C:

Citrus Fruits (Lemons, Limes, Oranges, Grapefruit)
Broccoli
Brussels Sprouts
Kale
Vitamin D:

Fish
Eggs
Dairy (Yogurt, Milk)
Mushrooms
Vitamin A:

Sweet Potatoes
Carrots
Fish
Dairy (Yogurt, Milk)
Cheese
Protein

Meats (Chicken, Pork, Beef, Fish)
Eggs
Peanut Butter
Lentils & Beans
Dairy (Milk, Yogurt)
Vitamin E

Nuts & Seeds (Almonds, Sunflower Seeds, Pine Nuts, Peanuts)
Fish
Avocados
Zinc

Meats (Chicken, Beef, Fish)
Lentils & Beans
Nuts & Seeds
Frozen Peas
Tip 2: Consume Protein Evenly Throughout Your Day
Some portion sizes of good protein sources include:
3 ounces of chicken breast
3 ounces of salmon
1 cup of lentils
Tip 3: Oral Nutrition Shakes Can Support Your Nutrition Goals
Glucerna® shakes are good sources of nutrients that support immune system health, making them helpful to supplement your daily diet. And, they're made with CARBSTEADY®, a unique blend of slow-release carbohydrates to help people with diabetes manage their blood sugar.†
* Vitamins C & E and selenium.
† Designed to help minimize blood sugar spikes in people with diabetes compared to high-glycemic carbohydrates.
Content provided by the Abbott nutrition team and approved by TCOYD.
Additional Resources:
A Dose of Dr. E: Diabetes & COVID: 4 Easy Ways to Boost Your Immune System
A Dose of Dr. E: Sick Day Rules
Dr. P Got Covid…His Most Surprising Symptom and Advice If You Get Sick
New Study Highlights People with Diabetes May Not Be Consuming Enough Protein