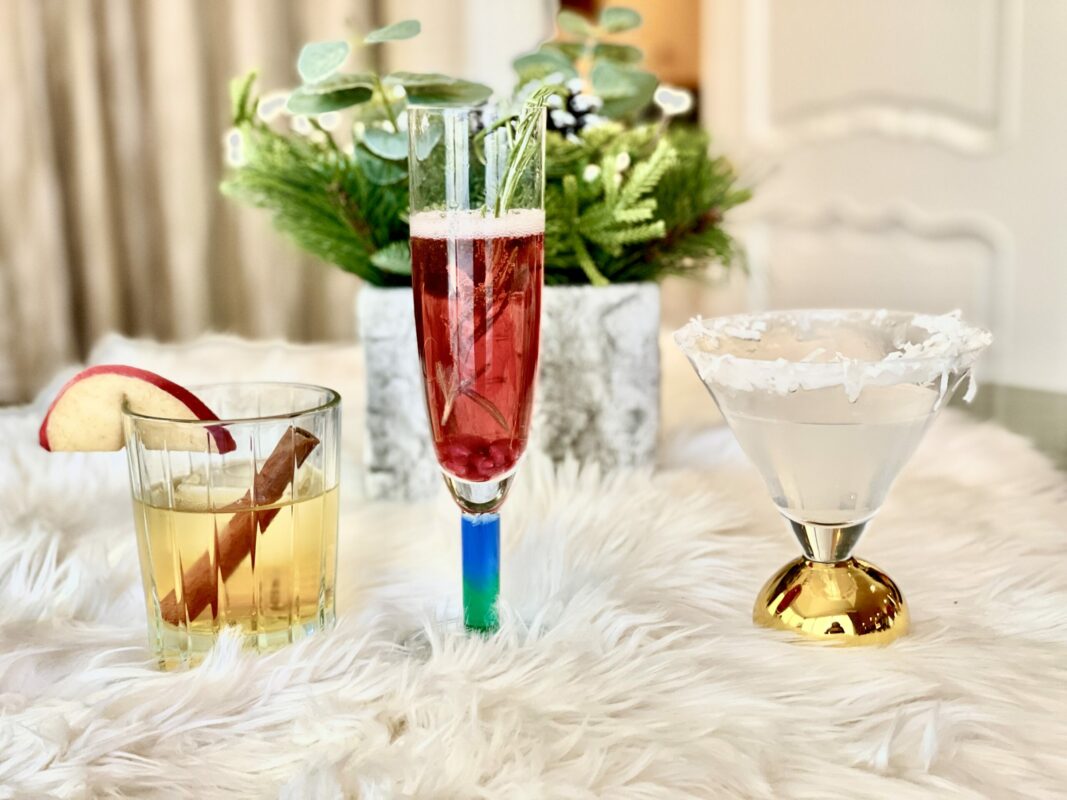 Our Continuing Medical Education Manager Sarah created these lightened-up cocktails that are easy to throw together with minimal ingredients, so you have more time to sip and savor the season.
Fireball Cider
Ingredients:
Directions:
Put a large ice cube in a highball glass/tumbler.
Add Fireball and top off with apple juice.
Add garnishes.
Approximate Nutrition for 1 serving: Calories: 150, Carbs: 22, Sugar: 22g
Cranberry Mimosa
Ingredients:
6 oz Champagne
 2 oz light cranberry juice
 Rosemary sprigs for garnish
 Cranberries or pomegranate seeds for garnish
Directions:
Fill a champagne flute ¾ with champagne.
Top off with light cranberry juice and add garnishes.
Approximate Nutrition for 1 serving: Calories: 70, Carbs: 24, Sugar: 3.5
Snowball Martini
Ingredients:
1.5 oz vanilla vodka
¼ cup cream of coconut (Note: not per serving, to pour on a plate to rim martini glass)
 4-6 oz Coconut Bai or other coconut flavored low-calorie beverage
 Shredded coconut for rim (sweetened or unsweetened)
Directions:
Pour cream of coconut onto a plate. Put some shredded coconut onto another plate.
Dip martini glass in cream of coconut, then roll in shredded coconut.
In a shaker, add ice, vanilla vodka, and coconut flavored beverage.
Shake and strain into a martini glass.
Approximate Nutrition for 1 serving: Calories: 98, Carbs: 5, Sugar: 2g