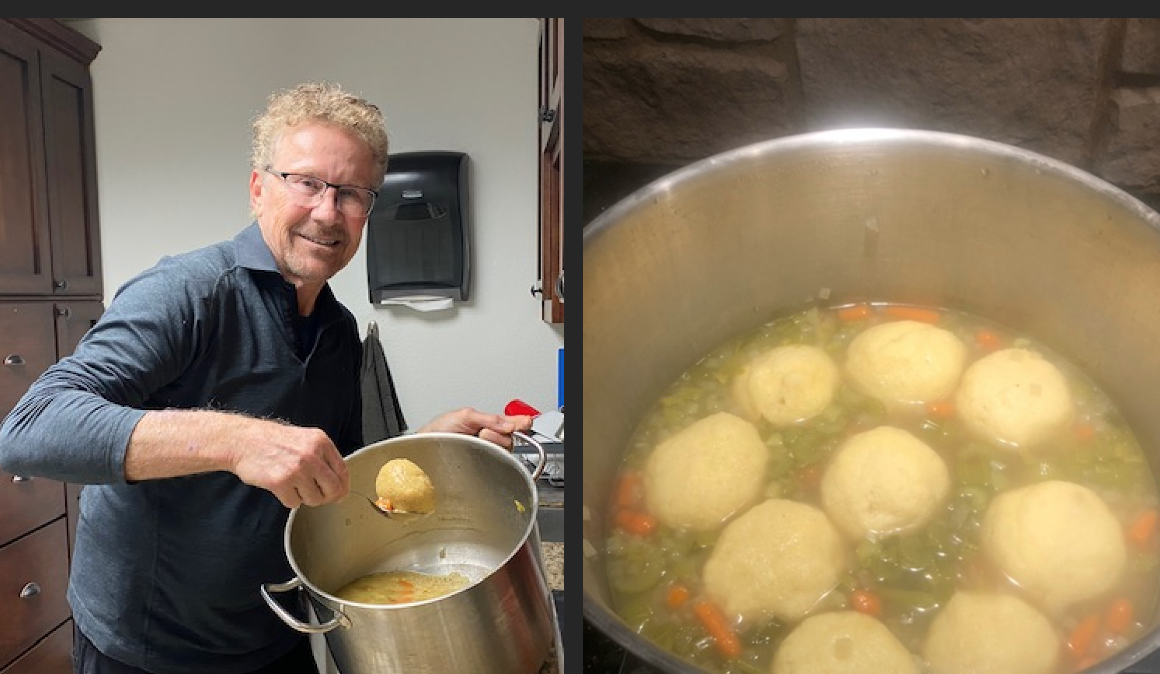 Dr. Edelman makes a big batch of his famous Matzo Ball Soup once a year, complete with celery, carrots, onions, and pasta. His secret strategy (yes, secret soup strategy) for flavorful matzo balls is cooking them in chicken broth, not water. It's a super soothing treat for chilly winter nights, even in San Diego when the arctic temps dip below 60.
Ingredients:
1 box (2 packets) Streit's Matzo Ball Mix (you can use another matzo ball brand, but just make sure it's NOT a matzo ball soup mix)
4 eggs
½ cup vegetable oil
2-3 cups chopped carrots (I use a little bag of mini carrots and cut them in half – the amount depends on how much you like carrots)
1 large yellow onion, chopped
1 stalk celery, chopped (with or without the leaves, depending on your taste)
4  32oz boxes of chicken broth (the amount of broth is up to you – you can use less of you like a heartier soup, and you can always add more if you want to thin it out later)
3 tablespoons Better Than Bouillon Roasted Chicken Base
1/2 lb DeCecco little pasta or any little pasta (any little pasta you want, and it really depends on how much pasta you want to include)
2-3 cups chopped or shredded cooked chicken (the amount you add depends on your personal preference)
Directions:
Cook pasta according to directions on box and set aside.
In a mixing bowl, add the eggs and vegetable oil and stir together with a fork. Add both packets of matzo ball mix, stir thoroughly and put in the fridge for 15 minutes.
In a large stock pot, add the carrots, onions, celery, broth and Better Than Bouillon. Cook on med-high heat until the vegetables are soft.
Remove the veggies with a slotted spoon (or strain them out) and put them aside.
Bring to the broth to a near boil.
Take the matzo ball mixture out of the fridge. Scoop a portion out with a spoon, and with your hand, make a ball The box says about the size of a walnut, but you can vary the size. You can make them small, medium or large. Drop them into the near boiling broth. Once all the balls are in the broth, simmer for 30 min. (box says lid on) (may need more time the larger the ball). When you first put them in the broth, they float, when they start to sink that's when they're cooked all the way through.
When the balls are done, slowly and gently add in the vegetables, cooked pasta, and any chopped cooked chicken as desired.