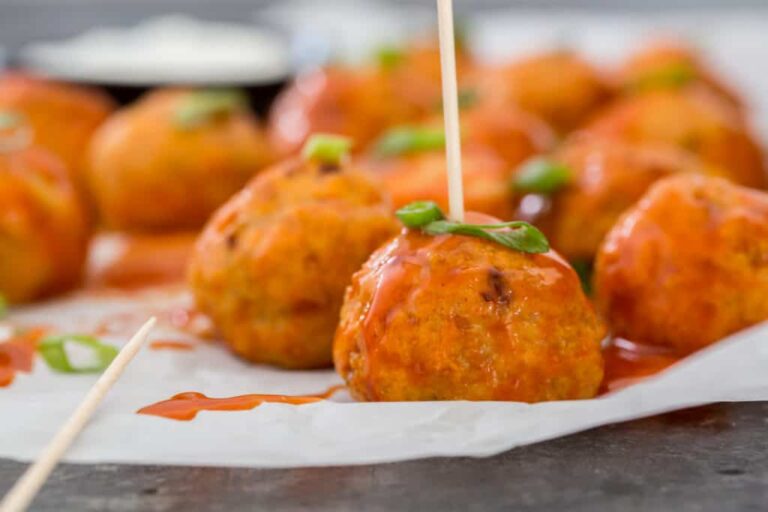 This recipe is from KetoConnect, where you'll find lots of delicious, low-carb recipe ideas. Here is the full Buffalo Chicken Meatballs recipe with additional notes, ingredient links, and instructional video.
Yield: 16 meatballs
Equipment:
Baking Sheet
8 Inch Cast Iron Skillet
Ingredients:
1/2 tablespoon coconut oil
1 large celery stalk, finely diced
1/4 small onion, finely diced
2 cloves garlic, minced
1 lb ground chicken
1 large egg
3 tablespoons Franks Red Hot Sauce
2 tablespoons almond flour
3 tablespoons coconut flour
1/2 teaspoon pink Himalayan salt
Instructions:
Preheat oven to 425°F. Line a baking sheet with parchment paper or spray with non-stick cooking spray. Set aside.
In a large skillet on medium-high heat, add the coconut oil, celery, onion, and garlic. Sauté until translucent and a little brown. Remove from the skillet and let cool slightly.
In a bowl, mix together the chicken, egg, Buffalo sauce, sautéed veggies, flours, and salt using a spatula, or your hands. Allow to rest for 5 minutes for the flours to fully absorb.
Form into 16 golf ball-sized meatballs, and place on the prepared baking sheet. Bake for 15-17 minutes, until lightly golden.
If desired, drizzle with more Buffalo sauce, garnish with scallions, and serve with dressing of choice.
Best stored in an air-tight container in the fridge for up to 7 days. Reheat in microwave.
Nutritional Information for 1 Meatball:
Calories: 60, Fat: 4g, Carbohydrates: 1g, Fiber: 1g, Protein: 6g
To return to the February 2022 newsletter, click here.