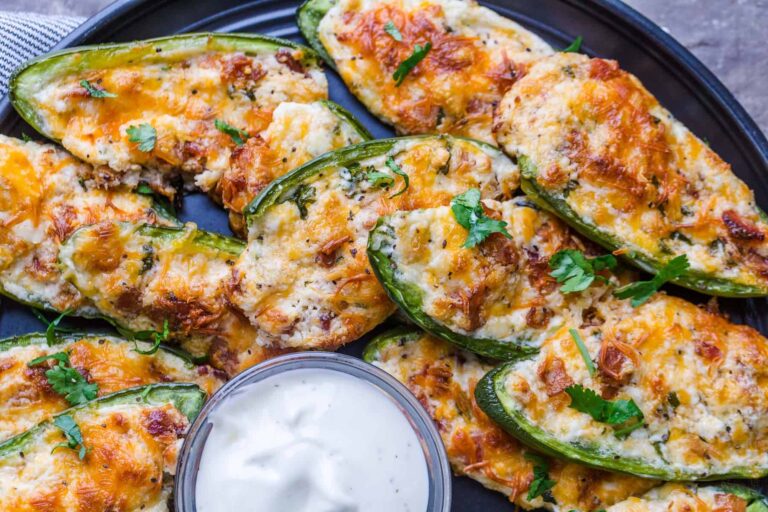 This recipe is from Natasha's Kitchen, a food blog full of great recipe ideas from appetizers to desserts. Click here for the full Jalapeno Poppers with Bacon recipe, plus additional notes, ingredient links, and videos.
Servings: 12 (makes 24 poppers)
Ingredients:
12 jalapenos
8 oz cream cheese, room temp
1 garlic clove, minced
¼ teaspoon salt
¼ teaspoon ground black pepper
3 tablespoons green onion, chopped
1 cup shredded mild cheddar cheese
8 oz bacon, cooked and chopped
1 tablespoon Parmesan cheese, optional
Instructions:
Preheat the oven to 400˚F. Halve the jalapenos lengthwise. Remove and discard the seeds and membranes.
In a large bowl, combine the cream cheese, garlic, salt, pepper, green onion, shredded cheese, and cooked bacon for the filling.
Fill the jalapeno halves with the mixture. Place stuffed jalapenos on a baking sheet and bake at 400˚F for 18-20 minutes, or until the cheese melts golden in color. Sprinkle Parmesan cheese over the poppers and serve.
Nutritional Info for 1 Serving:
Calories: 132, Fat: 11g, Carbs: 2g, Fiber: 1g, Sugar: 1g, Protein: 8g
To return to the February 2022 newsletter, click here.