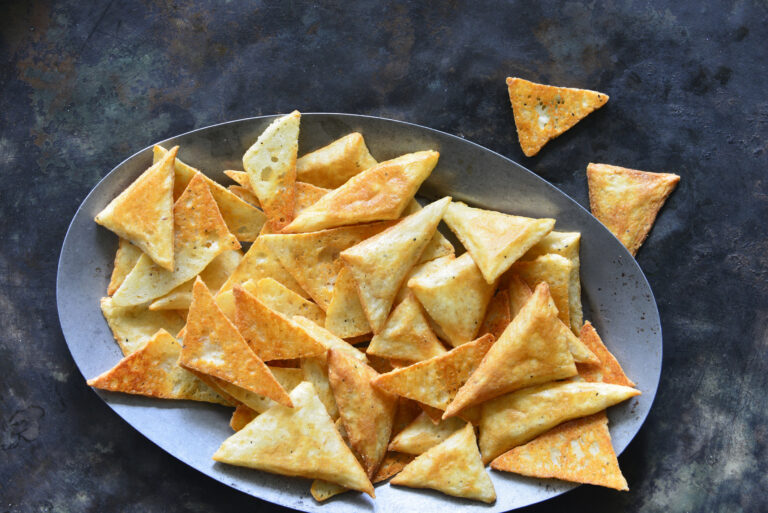 This recipe is from The Keto Queens, a website full of keto and low-carb recipe ideas from drinks to desserts. Click here for the full Low Carb Keto Tortilla Chips recipe, plus additional notes and ingredient links.
Servings: 6
Ingredients:
1 1/2 cups part-skim shredded mozzarella cheese
1/2 cup almond flour
1 tablespoon golden flaxseed meal
1/4 teaspoon salt
1/8 teaspoon black pepper
Instructions:
Preheat the oven to 375˚F. Line two large baking sheets with parchment paper or Silpat liners.
Melt the cheese in a double boiler or microwave. If you're using the microwave, place the cheese in a large glass bowl, microwave it for one minute, and then in 15-second intervals after that, checking and stirring until it's melted.
Once the cheese is melted, use a fork to mix in the almond flour, flaxseed meal, salt, and pepper. Use your hands to knead it a bit until it looks like dough. (If the dough cools too much, you may need to microwave it for a few seconds so it's easier to work with).
Divide the dough into two equal balls. Spread or roll each ball of dough out onto the prepared baking sheets until each is a rectangle about 8 by 10-inches. Cut each into square or triangle-shaped chips. Spread the chips out on the baking sheets so they're not touching.
Bake until golden brown on both sides, about 10 to 15 minutes, flipping the chips once halfway through.
Serve, or store the chips for up to three days in an airtight container at room temperature. To re-crisp the chips after the first day, bake them for five minutes at 350˚F.
Nutritional Info for 1 serving:
Note: This recipe makes 6 servings, and the number of chips varies depending on how big you cut your chips and how thin you roll out the dough.
Calories: 147, Fat: 10.9g, Sodium: 289mg, Carbohydrates: 4.3g, Fiber: 1.7g, Protein: 9.2g
To return to the February 2022 newsletter, click here.