Dr. Edelman creates a lot of his own recipes, and this is one of his favorite soups. He often doubles the recipe and makes a huge batch so he can freeze some to defrost later for an even easier weeknight dinner.
Servings: 6
Ingredients:
1 medium head of broccoli, chopped into florets
1 medium head of cauliflower, chopped into florets
1 medium white onion, cut into large quarters
1  32 oz. box chicken broth (you can use vegetable broth too)
~2 teaspoons Better Than Bouillon Roasted Chicken Base (add to taste)
Sour cream
Bacon bits
Croutons
Pepper to taste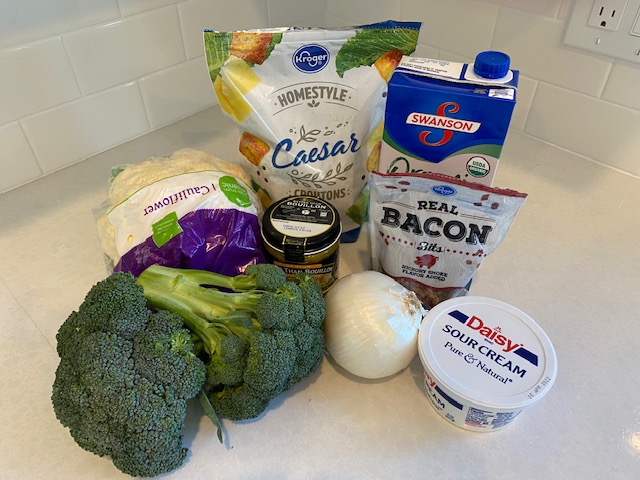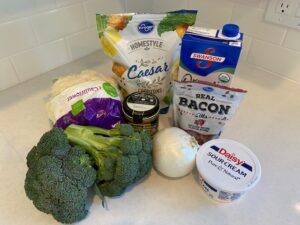 Directions:
Steam the vegetables in chicken or vegetable broth for about 10 minutes until soft, and add them to a blender. You may need to do this in batches if your blender is small.
Microwave 1 cup of chicken broth for 1 minute. Add 2 tablespoons Better Than Bouillon and stir to dissolve. Add the broth mixture to the blender with the vegetables and blend until smooth. Pour mixture into a large stockpot.
Add the rest of the broth into the stockpot and heat on medium to warm through. Add more broth to desired consistency…you want it thick, but not too thick. Add pepper to taste, if desired. If you feel it needs salt, add in another tablespoon of Better Than Bouillon.
Serve immediately with a dollop of sour cream, a sprinkle of bacon bits, and a few croutons.
Note: If you have an immersion blender, you can add all the steamed veggies straight into the stockpot with the full box of broth and 2 tablespoons Better Than Bouillon, and blend everything right in the pot.
Approximate Nutritional Information for 1 serving:
Calories: 98, Fat: 3.5g, Carbs: 13g, Fiber: 4g, Sugar: 4g, Protein: 6.5g