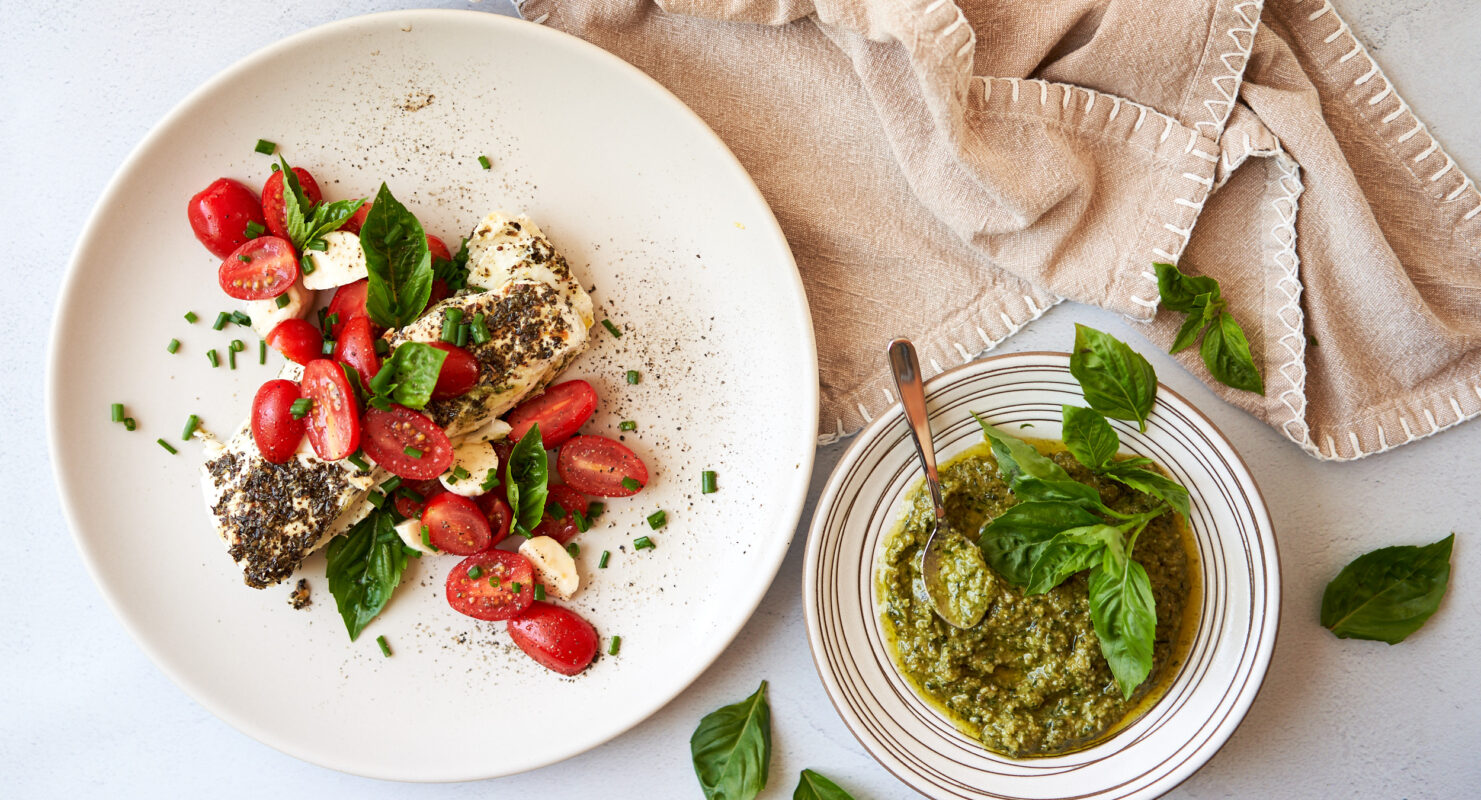 Jennifer Shun is the parent of a type 1 diabetic teen and the author of For Good Measure, which features low-carb, farm-to-table California cuisine — a resource with specific ingredient lists and nutritional data geared to people living with diabetes. Click here for the original halibut recipe and additional notes.
Servings: 4
Ingredients:
3 tablespoons olive oil, divided
1 tablespoon lemon juice
1 tablespoon parsley, minced
1 teaspoon basil
1 teaspoon garlic, minced
1 teaspoon sea salt, divided
1/4 teaspoon black pepper, divided
4 four-ounce halibut fillets
1 cup cherry tomatoes, halved
½ cup mozzarella pearls, halved
¼ cup basil leaves
Directions:
In a small bowl, combine 2 tablespoons olive oil, lemon juice, parsley, basil, garlic, ½ teaspoon sea salt & ⅛ teaspoon pepper. Set aside.
In a shallow dish, place halibut fillets in a single layer. Pour olive oil mixture over halibut, refrigerating for one hour.
Meanwhile, in a small bowl, toss cherry tomatoes in remaining 1 tablespoon olive oil. Add mozzarella pearls, seasoning with remaining ½ teaspoon sea salt. Set aside for 30 minutes.
Line a shallow baking dish with parchment and preheat oven to 450 degrees.
Place marinated halibut in prepared baking dish and bake until internal temperature reaches 145 degrees, or desired doneness.
While baking, add basil and remaining ⅛ teaspoon black pepper to tomato mixture.
Top baked fillets with Caprese mixture. Serve alongside basil pesto, if desired.
Nutritional Information Per Serving:
Calories: 248, Fat: 15g, Carbs: 3g, Fiber: 1g, Sugars: 1g, Protein: 25g