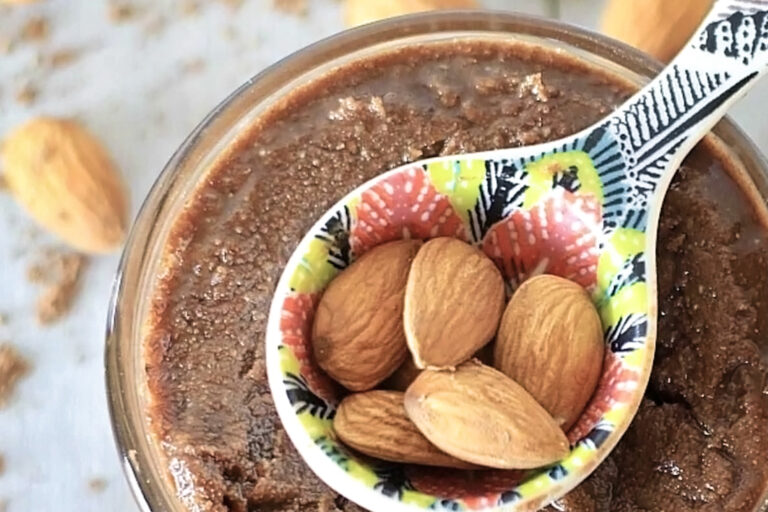 E.A. Stewart, aka The Spicy RD, is an Integrative Dietitian Nutritionist, Health & Wellness Coach, Gluten-Free Blogger, Digestive Health Expert, Autoimmune Warrior, & Vibrant Aging Enthusiast. Visit her website for more healthy and delicious recipe ideas, a variety of cookbooks, and expert guidance on nutrition and healthy living.
Servings: 10
Ingredients:
1 cup raw whole almonds
1 tablespoon unsweetened cocoa powder
1 tablespoon pure maple syrup
1 tablespoon vegetable oil, almond oil, macadamia nut oil, or high oleic expeller pressed sunflower oil
1 teaspoon ground cinnamon
1/8 teaspoon sea salt or to taste
Instructions:
Combine all ingredients in a food processor. Process until a smooth consistency is achieved, scraping down sides periodically as needed.
Store in refrigerator until ready to eat.
Ingredient Swaps: 
Swap almonds w/ any other nuts, try honey or date syrup in place of maple syrup, replace cinnamon with cardamom or ginger, or try them altogether!
Nutritional Information for 1 Serving (1 tablespoon):
Calories: 102, Fat: 9g, Carbohydrates: 5g, Fiber: 2g, Sugar: 2g, Protein: 3g