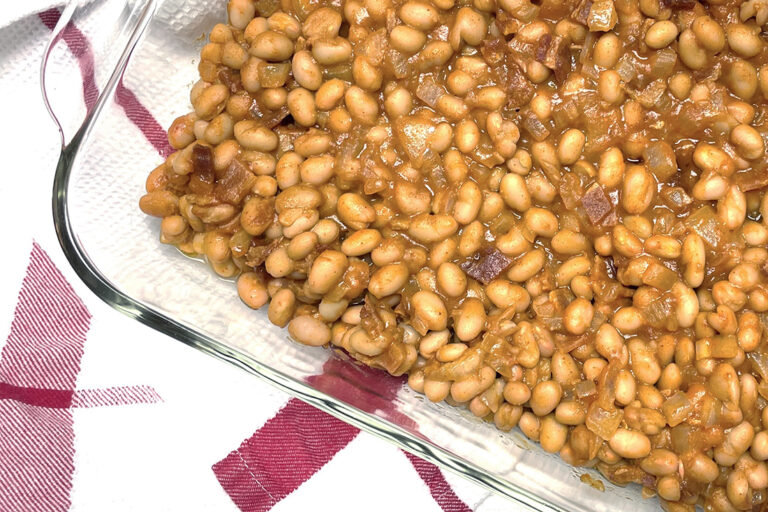 Traditional baked beans seem innocent enough, (they are beans, after all) but they can be a little sneaky in their content of sugar and carbs. This version uses low sugar ketchup and a sugar substitute that still adds plenty of sweetness.
Servings: 8
Ingredients:
4 slices bacon
½ medium onion, finely chopped
2 cans Great Northern Beans (or any type of small white bean), drained and rinsed
2/3 cup no sugar added ketchup
¼ cup brown sugar substitute (we used Lakanto)
1 tablespoon yellow mustard
2 teaspoons Worcestershire sauce
½ teaspoon smoked paprika
1 teaspoon liquid smoke
Directions:
Heat oven to 350 degrees F.
Cook bacon in a pan over medium heat until crispy. Remove to a plate lined with paper towels.
In the same pan, cook onions in the bacon grease until they're translucent, about 5 minutes.
Add all of the other ingredients into the pan, stirring to incorporate, and bring to a simmer.
Pour into a 9×13 baking dish. Chop bacon and sprinkle on top. Cover with tinfoil and bake for 20 minutes.
Approximate Nutritional Information for 1 Serving (1/2 cup):
Calories: 128, Carbs: 25g (19.5g net), Fiber: 5.5g, Sugar: .5g, Protein: 8g