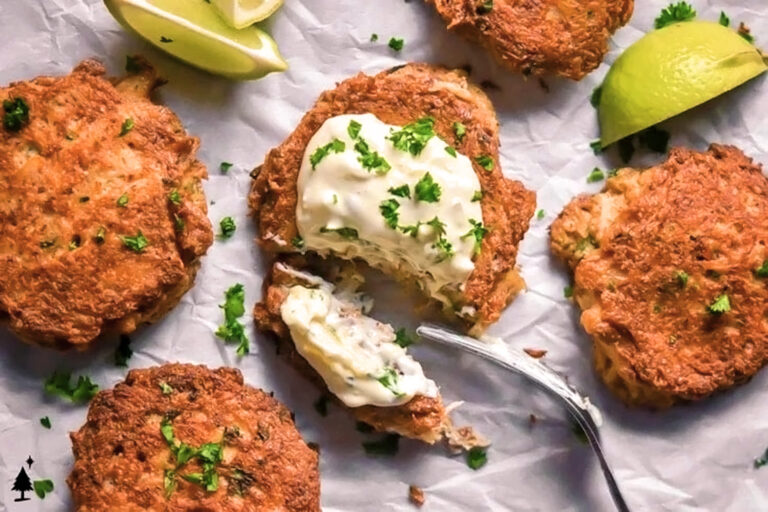 This recipe is from Little Pine Kitchen. Click here for the original recipe and notes, and explore their website for lots of other delicious low-carb recipe ideas!
Ingredients:
For the crab cakes:
2 tablespoons ground flax seeds
2 tablespoons almond flour
1 tablespoon fresh parsley, chopped
1 egg
1/4 cup mayonnaise
1 tablespoon dijon mustard
1/2 teaspoon hot sauce
1/2 teaspoon kosher salt
1 lb fresh lump crab meat (note 1)
1/4 cup mild-tasting oil (note 2)
For the tartar sauce (optional):
1/2 cup mayonnaise
1/2 cup pickles, finely chopped
2 teaspoons parsley, finely chopped
1/2 teaspoon lemon juice
1/2 teaspoon confectioners Swerve or Lakanto
Instructions:
Mix ground flax seeds, almond flour, fresh parsley, egg, mayonnaise, hot sauce, dijon, and salt in a large bowl. Add the crab meat and gently stir to combine. I like to leave chunks of crab in my cakes, so I mix minimally!
Scoop the crab mixture using a 1/3 cup measuring cup. Form 7 small patties, and pat the top so they're 2″ thick. The mixture will be slightly wet, so I find it easiest to place patties on a baking sheet and transfer them to the pan using a spatula.
Cook. In a large pan, heat the oil until simmering. Add the crab cakes and cook over moderately high heat. Don't overcrowd the pan, you may need to do this in batches depending on your pan size. Cook on each side until golden, about 3-5 minutes. Serve warm, with lemon wedges, fresh parsley, and tartar sauce.
Notes:
Crab – Lump crab meat. Opt for hand-picked, as it will have fewer shells.
Oil – You can use an oil with a high smoke point that's mild in flavor. Think vegetable or avocado oil.
Bake instead of fry – in an oven preheated to 450 F for 12-14 minutes.
Nutritional Information (or 1 crab cake if you make 7):
Calories: 323, Fat: 29g, Carbohydrates: 3g, Fiber: 1g, Sugar: 1g, Protein: 14g