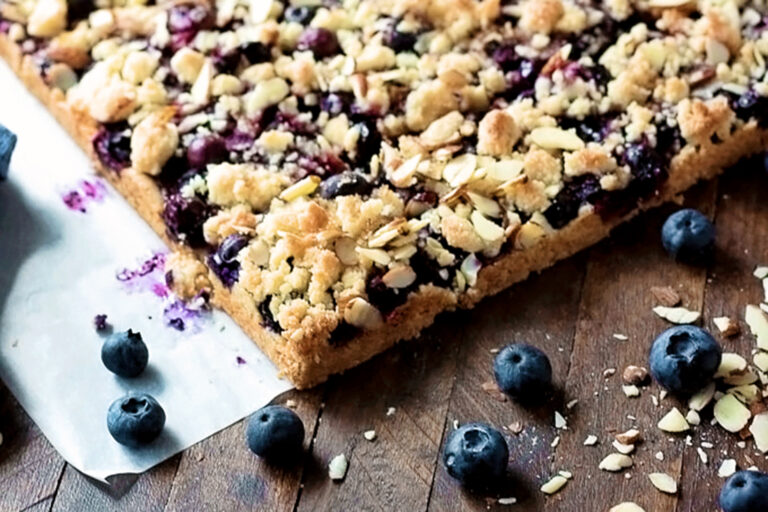 This recipe is from Kim at Low Carb Maven. Click here for the original recipe and notes, and explore her website for lots of other delicious low-carb recipe ideas!
Servings: 16
Ingredients:
Shortbread Crust (reserve 1 cup for topping)
2 cups almond flour
1 cup Bob's Red Mill Shredded Coconut, powdered in a coffee grinder
1/3 cup whey protein powder
1/3 cup low carb sugar
1/2 tsp salt
9 tbsp butter, melted
Blueberry Layer
2 cups (8 oz.) frozen blueberries
1/4 cup erythritol based sweetener (see above)
1 tbsp lemon juice
1 tbsp water
1 tsp cornstarch or arrowroot
1/4 tsp xanthan gum
1-2 pinches cinnamon
Crumble Topping
1 cup reserved shortbread crust
1/3 cup sliced almonds
more sweetener to sprinkle on top
Instructions:
Blueberries:
Place the blueberries, lemon juice, and water in a small pot over medium heat to thaw.
Mix the dry ingredients together.
When the berries have thawed, stir the dry ingredients into the blueberries and bring up to a simmer, stirring until thickened.
Remove from heat to cool.
Shortbread Crust:
Preheat oven to 350 degrees F.
Spray a 9×9 inch metal pan with baking spray and line with a piece of parchment that covers all or most of the bottom of the pan and overhangs two opposite sides. This will help you remove the whole dessert from the pan.
Powder the coconut in a coffee grinder.
Measure all of the dry ingredients into a smallish mixing bowl and mix thoroughly with a whisk.
Melt the butter and add it to the dry ingredients. Stir and press the mixture with a large spoon or rubber spatula until the butter is incorporated. Squeeze a small amount in your hand to test if it will hold together nicely. If not, add 1-2 more tablespoons of melted butter.
Assembly:
Remove 1 cup of the shortbread crumb mixture.
Dump the rest of the mixture into the prepared pan, spread it evenly and top with a piece of waxed paper. Press the crust firmly into the pan with a flat-bottomed glass. Pour the blueberries over the crust. There will be open spaces.
Crumble 1/2 of the reserved crust mixture over the blueberries and then half of the almonds. Repeat.
Sprinkle with additional sweetener if desired.
Bake:
Place into the middle of the oven and bake for 30-40 minutes or until the top is golden brown. Let cool completely before lifting out of the pan.
Cut the blueberry crumble into 16 squares with a large chef's knife, cutting straight down. Store in an airtight container in the fridge.
Nutritional Information for 1 bar:
Calories 187, Fat 15g, Carbohydrates 7g, Fiber 2g, Protein 7g