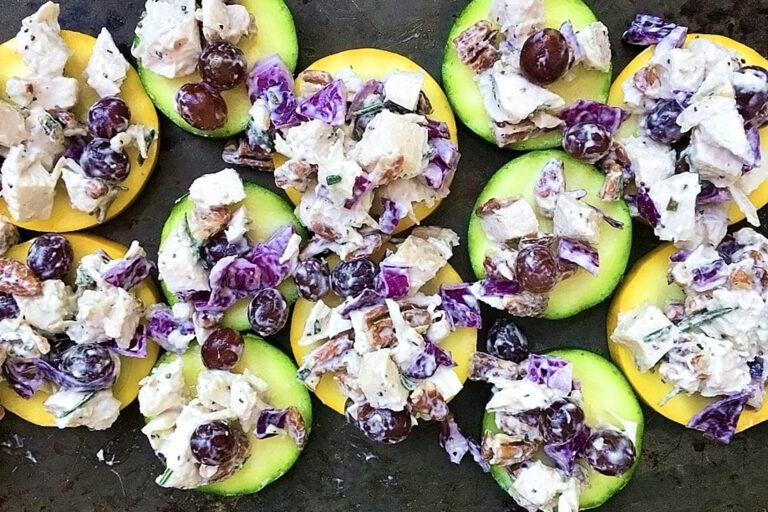 E.A. Stewart, aka The Spicy RD, is an Integrative Dietitian Nutritionist, Health & Wellness Coach, Gluten-Free Blogger, Digestive Health Expert, Autoimmune Warrior, & Vibrant Aging Enthusiast. Visit her website for more healthy and delicious recipe ideas, a variety of cookbooks, and expert guidance on nutrition and healthy living. For the full Low Carb Chicken Salad on Zucchini Chips recipe, click here.
Servings: 2 main or 5 appetizer portions
Ingredients:
4 ounces pre-cooked chicken breast, chopped
1/4 cup Champagne grapes (or red or green grapes)
1/4 cup pecans, chopped (or your favorite nuts or seeds)
1/4 cup finely chopped purple cabbage
2 tablespoons plain Greek yogurt
2 teaspoons mayonnaise
1 teaspoon finely chopped rosemary
salt and ground black pepper to taste
1/2 zucchini
1/2 yellow summer squash
Instructions:
Make the chicken salad by combining the chopped chicken, grapes, pecans, yogurt, mayonnaise, and rosemary in a medium mixing bowl. Season to taste with salt and pepper.
Slice zucchini and summer squash in to ~1/4 inch rounds-you will have ~20 rounds or "chips". Place squash chips on a serving dish and top with chicken salad. Serve immediately, or store in refrigerator until ready to serve.
Serving Suggestions:
No zucchini chips? This low-carb chicken salad tastes delicious on its own, or enjoy it wrapped in lettuce leaves for another low-carb option.
Nutritional Information per serving: 10"chips" main or 4 "chips" appetizer:
Calories: 265 cal, Fat: 16g, Carbohydrates: 11g, Fiber: 3g, Protein: 22g, Sugar: 7g