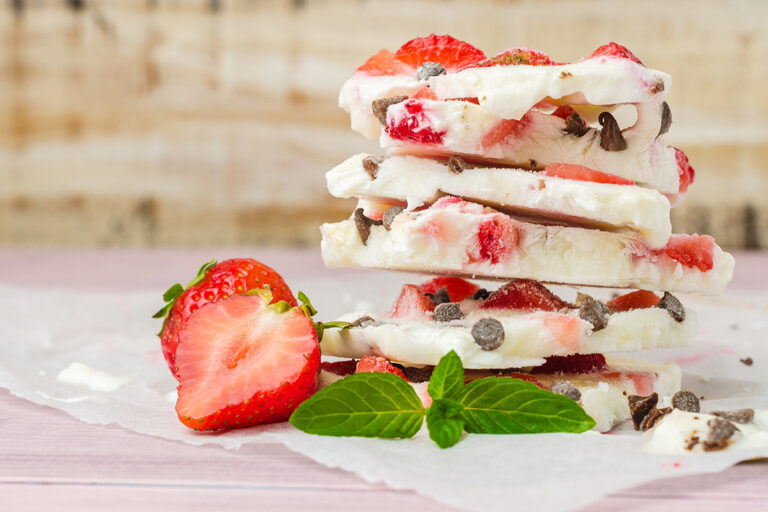 Dr. Edelman's favorite yogurt is Dannon Light and Fit, and he eats it on the reg. With only 80 calories and 9g carbs per 5 oz container, it's a lighter yogurt alternative that still tastes great. We decided to jazz it up a little and turn it into a simple, fun dessert.
Ingredients:
Directions:
Line a quarter sheet pan with wax paper or parchment paper. (If you don't have a quarter sheet pan, you can lay the parchment paper on a cutting board or other sturdy flat surface that fits in your freezer).
Spread the yogurt evenly with a spatula (or back of a spoon) to about ¼ inch thick in a rectangular shape.
Sprinkle the diced strawberries, chocolate chips and coconut flakes (if using) on top.
Put in the freezer for about 3 hours, until firm.
Break into chunks and store back in the freezer in a freezer bag or other storage container.
You may need to let it sit out for a minute from the freezer before biting into it, but the bark will start to melt fairly quickly so don't leave out of the freezer for too long!
Approximate nutritional information for entire piece of bark:
Calories: 239, Fat: 4g, Carbs: 33g, Fiber: 7g, Sugar: 18.5g, Protein: 25.5g