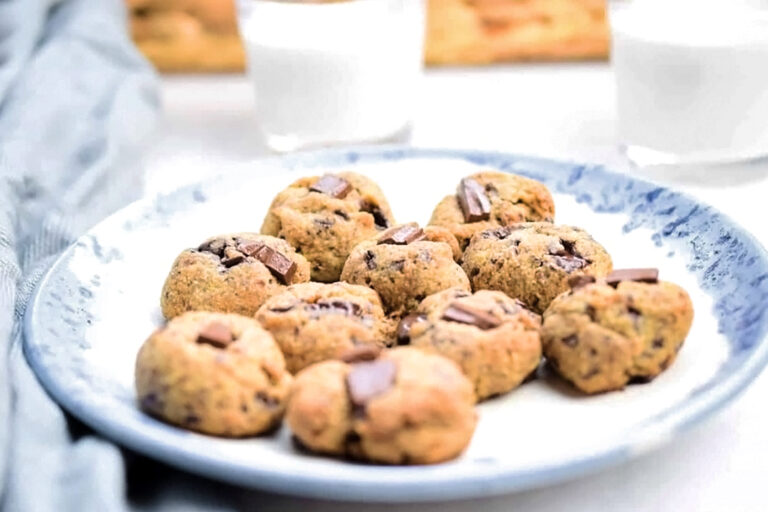 This recipe is from The Castaway Kitchen, a website dedicated to anti-inflammatory and allergen-free recipes. See the full Tahini Chocolate Chip Cookie recipe here, along with additional notes and ingredient links.
Yield: 10
Ingredients:
2 tablespoons ground flax meal
2 tablespoons water
2 tablespoons ghee or coconut oil
2 tablespoons tahini
1 teaspoon vanilla extract
2 tablespoons Zero Syrup, Choc Zero Honest Syrup, or honey (see original recipe for more details)
1/4 scant cup coconut flour (just under 1/4 cup)
1/2 teaspoon salt
1/4 cup chopped up dark chocolate
Instructions:
Pre-heat oven to 350 degrees.
In a large bowl mix the flax meal and water, and let it sit for 2 minutes.
Add in the ghee and tahini and mix until smooth.
Add the vanilla and sweetener and mix, followed by the flour and salt. Use a spatula to fold in and combine.
Add in the chocolate and fold in. Shape into 10 even-sized balls and place them 1-inch apart on parchment paper (or a silicone mat) on a baking sheet. Bake for 10 minutes. Remove from the oven, let cool for 10 minutes and enjoy!
Nutritional Information for 1 Cookie:
Calories: 95, Fat:7g, Carbs: 3.5g, Fiber: 2g, Protein: 1.5g