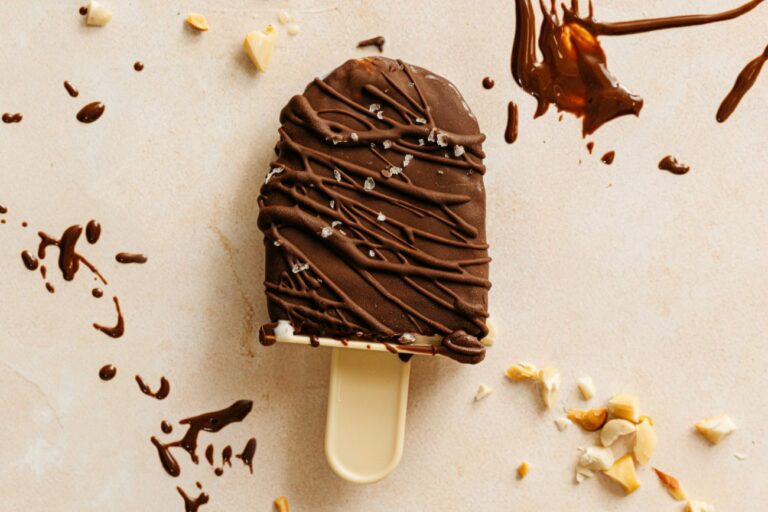 This recipe is from KetoConnect, where you'll find lots of delicious, low-carb recipe ideas. Here is the full Keto Ice Cream Bars recipe with additional notes, ingredient links and videos.
Servings: 14
What You Need:
Mixing Bowl
Popsicle Molds
Baking Sheet
Parchment paper
Mason Jar
Ingredients:
1 can unsweetened coconut cream
3/4 cup powdered sweetener
1 teaspoon vanilla extract
1.5 cups heavy whipping cream
1.5 cups sugar-free chocolate chips
3 tablespoons coconut oil
Instructions:
Combine the coconut cream, sweetener, vanilla, and heavy cream in a bowl. Mix well to dissolve the sweetener.
Pour the mixture into popsicle molds and freeze for 8-10 hours.
Remove the popsicles from the mold carefully using a bit of warm water to submerge the trays. Place the removed popsicles onto a baking sheet lined with parchment paper.
Re-freeze for 30 minutes.
Melt the chocolate chips and coconut oil together in a microwave safe bowl. Heat in 30-second intervals, stirring in-between to prevent burning.
Transfer the melted chocolate into a wide-mouth mason jar or glass deep enough to allow the ice cream bar to be fully coated.
Working quickly, dip the bars into the glass and rotate the glass to coat all sides of the ice cream evenly.
Place the dipped bar onto the baking sheet with parchment paper and top with any chopped nuts or toppings of choice. Repeat with all the bars.
Freeze until ready to enjoy.
Nutritional Information for 1 Serving:
Calories 225, Fat 27g, Carbohydrates 6g, Fiber 2g, Sugar 1g, Protein 2g