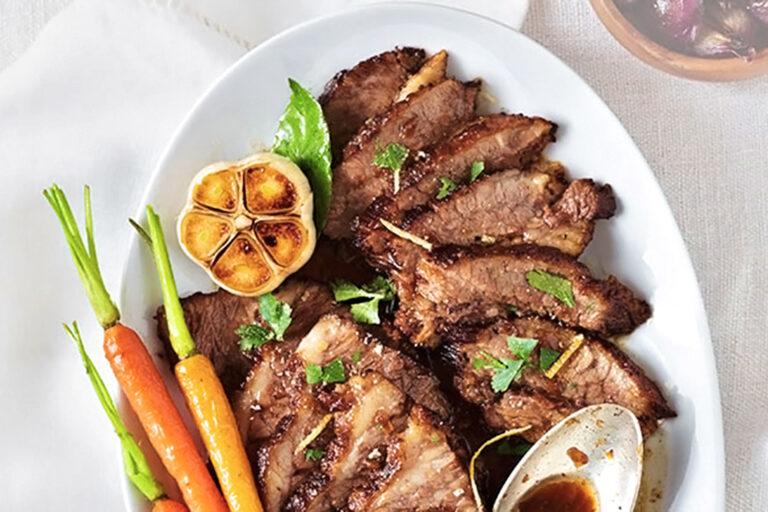 This recipe is from Teaming Up for Diabetes, a website dedicated to helping people with diabetes reach their management goals. Click here for the original beef brisket recipe, and check out lots of other Teaming Up for Diabetes recipe and meal ideas.
Servings: 10
Ingredients:
1 (4 1/2-pound) flat-cut beef brisket, trimmed of fat (see note)
1 teaspoon salt, divided
3/4 teaspoon black pepper, divided
4 teaspoons olive oil, divided
2 stalks celery, chopped
1 medium onion, chopped
4 cloves garlic, minced
1/2 cup dry red wine
2 cups reduced-sodium beef broth or chicken broth
1/4 cup tomato paste
1/2 teaspoon dried thyme
1 pound red-skinned potatoes, scrubbed and cut into 1 1/2-inch pieces
1 pound turnips, peeled and cut into 1 1/2-inch pieces
1/2 pound carrots, peeled, cut in half lengthwise, and cut into 2-inch pieces
Fresh flat-leaf parsley, chopped, for garnish (optional)
Directions:
Preheat the oven to 325°F.
Sprinkle the brisket with 3/4 teaspoon of the salt and 1/2 teaspoon of the pepper. Heat 2 teaspoons of the oil in a large skillet over medium-high heat. Add the brisket and cook, turning once, until well browned, about 8 minutes. Transfer the brisket to a deep-sided 4- to 5-quart baking dish.
Add the remaining 2 teaspoons of oil to the skillet. Add the celery and onion, and cook, stirring often, until the vegetables are softened, about 5 minutes. Add the garlic and cook, stirring constantly, until fragrant, about 1 minute.
Add the wine and bring to a boil, stirring to scrape up the browned bits from the bottom of the skillet. Add the broth, tomato paste, and thyme, and cook, stirring constantly, until the tomato paste is incorporated into the broth and the mixture comes to a boil. Pour the mixture over the brisket. Cover and bake 2 hours.
Combine the potatoes, turnips, carrots, remaining 1/4 teaspoon salt, and remaining 1/4 teaspoon pepper in a large bowl, and toss to coat. Remove the baking dish from the oven and add the vegetables around the brisket. Press the vegetables into the dish so they are almost covered with broth. If necessary, add additional broth or water. Cover and bake until the brisket and vegetables are very tender, about 1 hour longer.
Cut the roast into thick slices and serve with the vegetables and broth. Garnish with chopped parsley, if desired.
Note: Brisket is typically a fatty meat; choosing the leaner flat cut of brisket is a healthier choice than the fattier point cut. Brisket is sold with a layer of fat attached to one side of the meat. Removing this will drastically reduce the calories and saturated fat. Ask your butcher to remove it, or you can easily trim it away yourself. A 4 1/2-pound brisket will have as much as 1 pound of fat that can be trimmed away.
Nutritional Information for 1 Serving (3 oz. brisket with 2/3 cup vegetables and ¼ cup broth):
Calories: 266, Fat: 8g, Carbs: 15g, Fiber: 3g, Sugar: 0 Protein: 30g