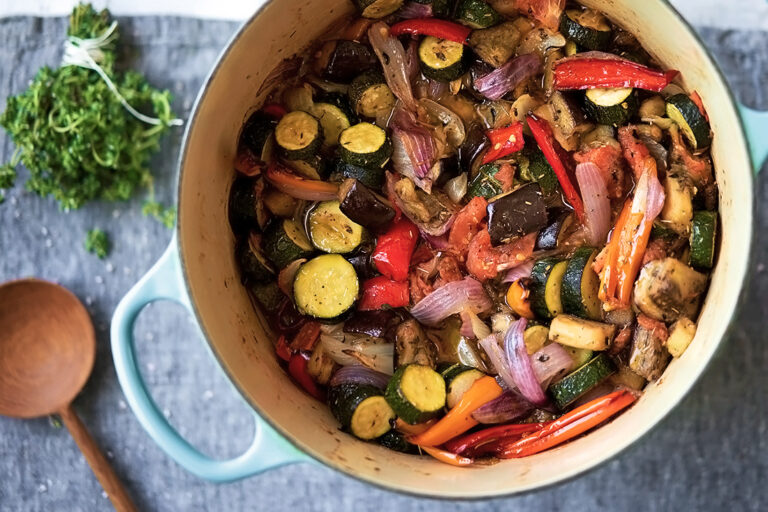 Jennifer Shun is the parent of a type 1 diabetic teen, and the author of For Good Measure, which features low-carb, farm-to-table California cuisine — a resource with specific ingredient lists and nutritional data geared to people living with diabetes. Click here for the original Ratatouille recipe and additional notes.
Servings: 8
Ingredients:
2 cups onion, wedged into ¼-inch pieces
4 garlic cloves
3 sprigs of rosemary, divided
6 sprigs of thyme, divided
¾ cup olive oil
4 cups eggplant, diced into 1-inch cubes
3 cups zucchini, sliced into ¼-inch rounds
2 cups red pepper, sliced into ¼-inch strips
3 teaspoons salt, divided
2 cups tomatoes, approximately 2 large *
2 teaspoons herbes de provence
½ teaspoon black pepper
Directions:
Preheat oven to 350 degrees.
Line two rimmed baking sheets with parchment. Arrange onion wedges on first baking sheet.
Smash garlic cloves and tuck into onion wedges, adding one sprig of rosemary and two of thyme. Brush with 3 tablespoons of olive oil. Roast for 60 minutes, until tender and lightly browned.
Meanwhile, arrange eggplant, zucchini and red peppers on second baking sheet. Add two sprigs of rosemary and four of thyme, brushing vegetable mixture with remaining olive oil. Sprinkle with 1 teaspoon salt. Roast for 30 minutes, until tender and well-cooked.
While roasting, bring a pot of water to boil. Add tomatoes and blanch, until skins split. Remove from water and cool enough to handle. Remove skins from tomatoes and dice, reserving juices.
Mix roasted vegetables, tomatoes, and juices in a shallow baking dish. Add herbes de provence and black pepper, stirring to combine.
Bake 1 hour, stirring every 20 minutes. Serve warm.
Naturally low-carb & gluten-free
*I prefer plum or heirloom, however, substitute any variety as long as the skinned, diced product measures 2 cups
Nutritional Information for 1 Serving (1 cup):
Calories: 225, Fat: 20g, Fiber: 3g, Sugar: 6g, Protein: 2g