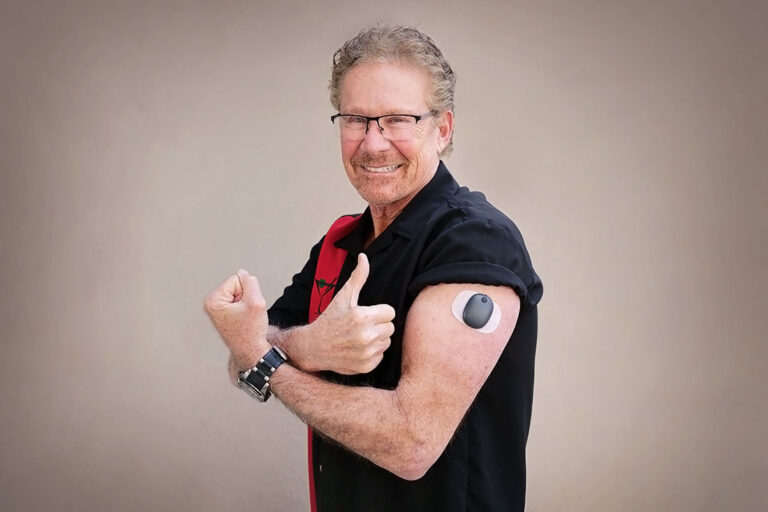 What Is the Eversense E3 CGM?
The Eversense E3 CGM is a continuous glucose monitor (CGM) with a fully-implantable sensor for 180-day use. This is currently the longest wearable sensor approved in the U.S., and it is the only fully implantable CGM sensor on the market. The Eversense CGM system involves three components: a sensor, transmitter, and Eversense app.
The Insertion Process
I had my Eversense E3 CGM insertion about six weeks ago, performed by my colleague and former UCSD endocrinology fellow Dr. David Ahn. Dr. Ahn has done hundreds of Eversense insertions. The insertion procedure took literally less than 10 minutes, and we did it at the TCOYD® office on a massage table! After a little numbing medication (lidocaine) was injected under the skin on the side of my arm, Dr. Ahn inserted the small sensor with a special "inserter" tool designed to make it super easy. You can see the size of the sensor here. Once the sensor was inserted, Dr. Ahn put a few Steri-Strips (Steri-Strips are just a type of band-aid with a stronger adhesive) over the site, and that was it! He was done before I knew it. In six months I will get the sensor taken out and have a new one put in. When the new sensor is inserted, it's put in a different location (typically in the same location in the other arm).
Features
Adhesives
The Eversense E3 CGM comes with two different colors of double-sided adhesives – white and clear. The adhesive is placed over the insertion site, and a very light transmitter is placed on top. The adhesive tape is comfortable and comes off when you're charging the transmitter and cleaning your skin.
Mobile App
There's an Eversense E3 CGM app (compatible with Apple and Android) you download to your smartphone, and it shows you all the typical metrics of a CGM device including glucose averages, standard deviation, etc. The app also has a placement guide to help you put the transmitter on in the correct location over the sensor.
Transmitter
The transmitter is so light I can barely feel it. It sends a glucose value to my smartphone every five minutes. I take my transmitter off to charge it (it only takes 5 -10 minutes) when I take a shower or make a cup of coffee in the morning. It's recommended that you charge it once a day, but mine seems to last two days.You can leave the very light transmitter on while doing almost any activity. It's water-resistant submerged in 1 meter of water for up to 30 minutes so you can even swim with it on, but do not try it if you cannot swim!
Accuracy
The Eversense E3 CGM requires two calibrations per day with a finger stick measurement for three weeks, and then you only have to calibrate once a day. The E3 is extremely accurate and there's typically only a 5 to 10% difference from my glucose meter reading, which is very comforting.
Vibration
One thing I particularly like about this system is the silent, vibrating on-body alerts when I hit my upper and lower levels. The vibration pattern is different for the high and the low alert. You can also easily remove the transmitter when you want the freedom of not having it on (e.g., for scuba diving or being intimate – hopefully not both at the same time) but you will not get any readings when it's off.
Airport Security
I just traveled to Germany and I kept the transmitter on while going through TSA – there are no problems there.
Drawbacks
MRIs
If you have to have an MRI you will need to remove the transmitter for the procedure, but you can put it on again right after.
Communication with Pumps
At this time, the E3 doesn't communicate with pumps, but that feature is in the works.
Honest Review of the Eversense E3 CGM
There are a few excellent CGM devices on the market with different form factors. The Eversense E3 CGM offers another choice for people with type 1 and type 2 diabetes who could benefit from getting frequent glucose values with trend arrows, alerts, and alarms. Each CGM system varies slightly, and it's nice to have options so you can find what works best for you. Different strokes for different folks!
Eversense CGM Cost and Where to Buy
Visit the Eversense site for more information and videos about the E3 system, cost, distributors, and more.
Disclosure: Dr. Edelman is on the Board of Directors of Senseonics. Ascensia is a 2023 Silver Sponsor of TCOYD.
Additional Resources:
Watch Dr. E's Eversense E3 CGM Insertion – We Filmed It LIVE!
Eversense E3 CGM Approved for Two Sensors per Year: Your "Happily Ever(sense) After"
Could a 6-Month CGM Be Your Happily Ever(sense) After?
My Life-Changing Trial of the Eversense CGM
Type 1 Elite Powerlifter Turns Pain Into Purpose