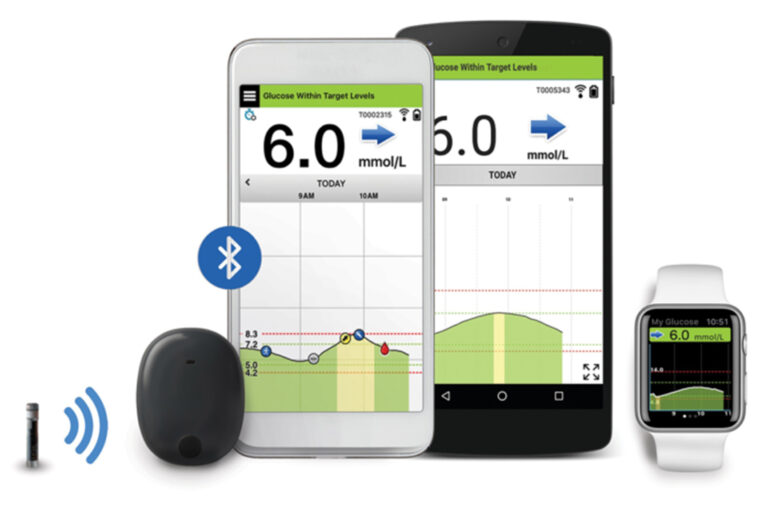 Big News!
In February, the FDA approved Senseonics' Eversense E3 continuous glucose monitor (CGM) with fully-implantable sensor for 180-day use. This sensor is the longest wearable sensor currently approved in the U.S., and it is the only fully implantable CGM sensor on the market. It also now only requires one calibration per day. The previous version of the Eversense was approved for 90 days of use, required twice-daily calibrations, and was not approved for insulin dosing. This may have seemed like a logistical headache for some when compared to the largely calibration-free and self-applied Abbott FreeStyle Libre or Dexcom G6, but the unique quality of being implantable with a longer lasting sensor was attractive to many consumers. Senseonics, along with partner Ascensia, will be executing a launch plan to begin delivering the Eversense E3 system to customers in the U.S. beginning this spring. An earlier version of the 180-day sensor, the Eversense XL, began distributing in Europe last year.
Data from the PROMISE study evaluating the Eversense E3 CGM system underscores its accuracy. The mean absolute relative difference (MARD), the most common measurement used to evaluate a CGM's accuracy, was reported at 9.1%. A MARD < 10% is considered highly accurate. The hypoglycemia alert detection rate at 60 mg/dL was 87% and at 70 mg/dL was 93%.
What Is the Eversense System?
The Eversense CGM system involves three components:
Sensor: An under-the-skin sensor coated in a silicon capsule (3.5 mm x 18.3 mm). The sensor is placed under the skin in the upper arm and works via fluorescence technology. The procedure must be performed by a provider during an in-office visit that typically takes about 15 minutes and requires only a local anesthetic.
Transmitter: A water-resistant removable and rechargeable smart transmitter worn on top of the skin via an adhesive patch. It sends data to the smartphone "receiver" every five minutes.
Eversense app: The app (Apple or Android) on a smart device receives the data from the transmitter and displays glucose values and trend arrows, and also provides alerts. The data is stored in a remote cloud server. This data can then be shared with your healthcare professional, family, or other caretakers.
Pros and Cons:
Pros:
It's the only long-term implantable CGM (~2 sensor changes per year)
It offers unique on-body vibration alerts, which can be a great option for those hard of hearing or visually impaired, in addition to audio alerts typical to other CGMs
Vibration alerts are provided even if one's phone is out of range
You can remove and recharge the transmitter without having to discard the sensor
It has a discreet under-the-skin sensor
Accuracy is not affected when taking vitamin C or Tylenol
Data can be shared with friends and family
The sensor (not the transmitter) is reported to be MR safe (safe for MRIs)
There's no need to deal with the hassles of getting your supplies every month or every 3 months
Cons:
It requires an in-office procedure for sensor implantation and removal. Each procedure takes approximately 15 minutes, but you should plan on 30 to 45 minutes from start to finish
Some discomfort with insertion, however, numbing medication (lidocaine) is put in first to minimize any pain
It requires daily calibration
Cost/insurance coverage like any other CGM, but at least only twice a year
It's FDA approved for people 18 years and older only, non-pregnant
It requires a smart device to use as a reader
It does not integrate at this time with an insulin pump as Dexcom does
The Gist:
If you have type 1 or 2 diabetes treated with insulin and you are bothered by the need to change your CGM's sensor every 10-14 days, or you want the option for a more discreet CGM as needed without discarding a sensor, or you have issues with your sensor being knocked off due to an active lifestyle, this may be the product for you! The need for continued daily calibrations is not ideal, but the new 180-day wear time (meaning two annual procedural visits for sensor implantation) may make this worth it. It comes down to personal choice.
In the Pipeline:
Word is, the company will next aim to extend the sensor's lifespan from 180 days to one year and reduce the necessary calibrations from once daily (for the 180-day model) to once per week. Additional plans include adding a battery center to the device so when the transmitter is removed, the device instead can be scanned intermittently with a smartphone for data. Integration with pumps is also in the works. Exciting stuff!
How to Try Eversense:
People who are interested in getting started with Eversense now can sign up at www.eversensediabetes.com/get-started-today. Physicians, nurse practitioners and physician assistants who are interested in offering the Eversense CGM System can sign up at https://www.ascensiadiabetes.com/eversense/become-a-provider/. Alternatively, contact 844-SENSE4U (844-736-7348) to learn more about the first and only long-term implantable CGM system.
Dr. Edelman is on the Board of Directors of Senseonics and Ascensia is a corporate  sponsor of TCOYD.
Additional Resources:
Watch Dr. E's Eversense E3 CGM Insertion – We Filmed It LIVE!
Could a 6-Month CGM Be Your Happily Ever(sense) After?
Facebook Live: Everything You Need to Know about CGMs
Continuous Glucose Monitoring for Type 2s: An Incredible Tool to Take Control of Your Diabetes
My Life-Changing Trial of the Eversense CGM