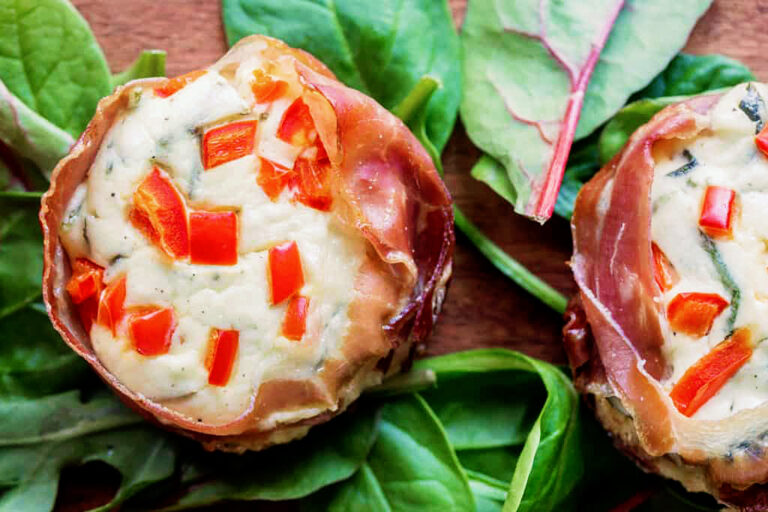 This recipe is from KetoConnect, where you'll find lots of delicious, low-carb recipe ideas. Here is the full Goat Cheese Breakfast Tart recipe with additional notes and ingredient links.
Servings: Makes 8 tarts
Ingredients:
1 tablespoon butter
1 cup spinach/kale/or collard greens
2 cloves garlic, minced
1/4 teaspoon red pepper flakes
8 slices prosciutto
2 large eggs
8 oz. cream cheese, room temp
4 oz. goat cheese, room temp
1/4 cup grated parmesan cheese
1 teaspoon dried rosemary
1/2 teaspoon pink Himalayan salt
1/4 teaspoon black pepper
1/4 cup sweet red peppers, diced
Instructions:
Preheat the oven to 350 degrees F.
Melt butter in a skillet over medium heat. Add kale, garlic, and red pepper flakes, and sauté until fragrant and wilted, about two minutes. Remove from heat and set aside.
Spray a muffin tin with non-stick spray, then carefully line 8 cups with prosciutto.
In a small bowl, lightly whisk eggs. Add in cream cheese, goat cheese, parmesan cheese, rosemary, salt, and pepper. Stir until smooth.
Add the mixed greens to the cheese mixture and mix well.
Spoon the mixture into each of the prosciutto cups, dividing it evenly. Top with diced red pepper.
Bake for 20 – 25 minutes until golden brown and set. Let stand for 5 minutes to cool slightly and firm up.
Nutritional Information for 1 Tart:
Calories: 194, Fat: 17g, Carbohydrates: 2g, Protein: 9g