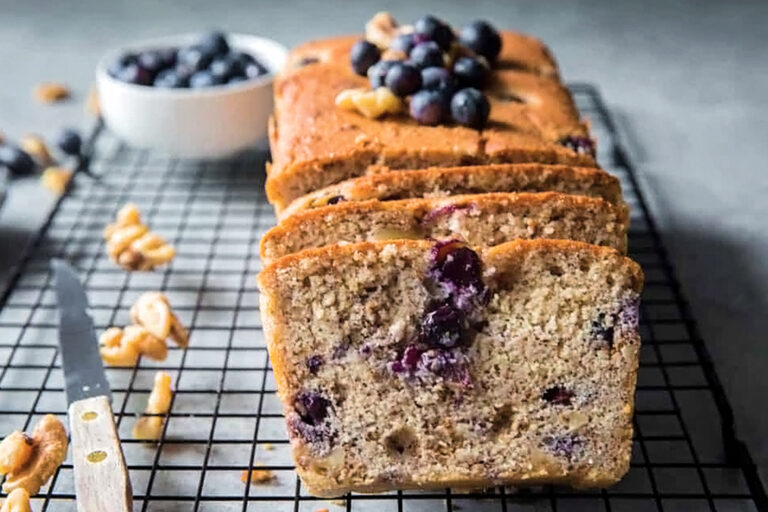 This recipe is from KetoConnect, where you'll find lots of delicious, low-carb recipe ideas. Here is the full Keto Blueberry Pound Cake recipe with additional notes and ingredient links.
Servings: 10 slices
Ingredients:
2 cups almond flour
2 teaspoons baking powder
1.5 teaspoons ground cinnamon
1/2 teaspoon pink Himalayan salt
4 oz. cream cheese, softened
1/4 cup unsalted butter, softened
1/4 cup low-carb sugar substitute
1.5 teaspoons vanilla extract
1/4 cup sour cream
1/2 teaspoon liquid stevia (50 drops)
4 large eggs (room temperature)
2/3 cup fresh blueberries
1/2 cup chopped walnuts
Instructions:
Preheat oven to 350 degrees F.
Spray an 8.5 x 4.5 bread loaf with oil of choice (you can also line it with parchment paper for easier removal).
In a medium bowl add almond flour, baking powder, cinnamon, and salt. Combine using a hand mixer until fluffy and incorporated.
In another large bowl, add the cream cheese, butter, and sugar substitute. Beat until well combined.
Add vanilla, sour cream, and stevia and mix well. Add eggs and beat until fully incorporated.
Add the dry ingredients in two batches to the wet ingredients, and combine one last time using the hand mixer.
Fold in the blueberries and walnuts.
Bake for 50-60 minutes until a toothpick comes out clean. Remove from oven and allow to cool in the pan for 10-15 minutes, then transfer to a cooling rack. Slice into 10 pieces and top with whipped cream and fresh blueberries, if desired.
NOTE: Oven temps vary, so be sure to check on the pound cake starting at 40 minutes. If it's browned all over and a toothpick comes out clean, it should be fully cooked through!
Nutritional Information for 1 Slice:
Calories: 297, Fat: 27g, Carbohydrates: 9g, Fiber: 3g, Protein: 9g