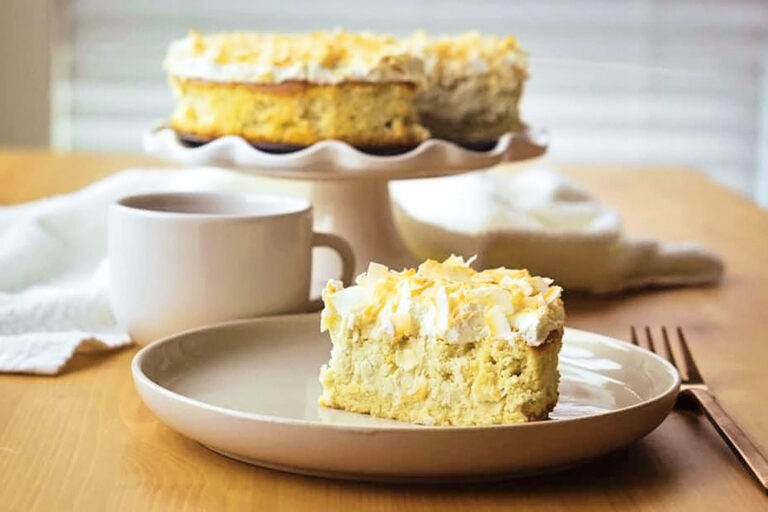 This recipe is from KetoConnect, where you'll find lots of delicious, low-carb recipe ideas. Here is the full Low Carb Coconut Cream Pie recipe with additional notes and ingredient links.
Servings: 8
Note: This recipe uses a springform pan.
Ingredients:
For the Crust:
For the Filling:
For the Topping:
1/2 cup heavy whipping cream
20 drops liquid stevia
1/4 cup unsweetened coconut flakes
Instructions:
Preheat the oven to 350 degrees and line a baking sheet with parchment paper or a silicone mat.
To make the crust, combine the coconut flour and powdered erythritol (low carb sugar substitute) in a medium-sized bowl. Add the melted butter and egg and combine. The crust should come together as a dough. Transfer dough to an 8-inch springform pan and flatten it out to cover the bottom of the pan evenly.
Poke several holes in the crust with a fork and place on the lined baking sheet. On the other half of the baking sheet, place the 3/4 cup of unsweetened coconut flakes to toast. Place the baking sheet in the oven and bake for 15 minutes. After 5 minutes, remove the flakes and set them aside in a bowl (they should have browned). Place the crust back in the oven for the remaining 10 minutes.
Set the crust aside to cool and lower the oven temp to 300 degrees.
To make the filling, in a large bowl combine the full can of coconut milk, heavy cream, vanilla extract, liquid stevia, and powdered sweetener/erythritol. Combine using a hand mixer.
Add the eggs, coconut flour, 1/2 cup of the toasted coconut flakes, and combine once more.
Grease the sides of the springform pan (we like to use coconut oil spray) with the cooled crust, and pour the filling onto the crust. Bake for 70 minutes. Let the pie cool for 30 minutes and then place in the fridge for 1 hour to set.
To make the topping, whip the heavy cream into stiff peaks. Add the stevia and combine. Place in the fridge until ready to use.
Top the chilled pie with the heavy cream topping and spread evenly. Top the cream with the remaining (1/4 cup) toasted coconut flakes and gently press into the cream. Refrigerate for another hour before serving.
Nutritional Information for 1 Serving:
Calories: 324, Fat: 30g, Carbohydrates: 7.2g, Fiber: 3.6g, Protein: 4g