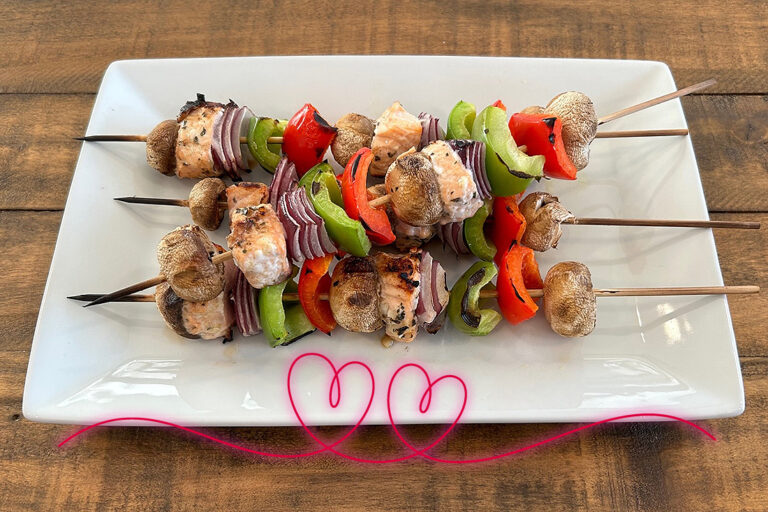 My salmon skewers of love recipe is perfect even for those who have little experience cooking. The extra virgin olive oil, garlic, and lemon give the salmon a clean, fresh taste, and the brightly colored veggies add texture and flavor.
Servings: 4-6 skewers
Ingredients:
2  8-ounce salmon filets (see if your grocery store butcher or fish monger can skin them for you)
2 tablespoons minced garlic
¼ cup extra virgin olive oil
1 teaspoon fresh or dried basil
2 tablespoons fresh lemon juice
1 red pepper
2 green peppers
1 red onion
1 large portobello mushroom or one 8oz container white button mushrooms
6 bamboo skewers
Directions:
Skin the salmon if your butcher hasn't already done the job for you, and cut into 1-inch pieces.
Mix garlic, olive oil, basil and lemon juice in a bowl. Add the salmon pieces to the bowl, cover and refrigerate for 1 hour.
Place bamboo skewers in cold water for at least 30 minutes (this will keep them from burning).
Cut all the veggies into 1-inch pieces.
Take the marinated salmon out of the fridge.
If you're cooking the skewers in the oven, pre-heat your oven to 375 degrees. If you're grilling them, turn your grill on to medium-high (around 425-450 degrees).
Build your skewers, alternating between peppers, onions, mushrooms, and salmon.
Place on the grill for 8-10 minutes, turning often (use tongs or an oven mitt to protect your fingers) or place on a baking sheet in the oven for 10-12 minutes.
Approximate nutrition for 1 skewer (but it depends on how  you build it):
Calories: 266, Fat: 19g, Carbs: 6.5g, Fiber: 2g, Sugar: 3g, Protein: 18g